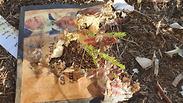 IED hidden in a book lands in Israeli community
Explosive device hidden in book discovered in Gaza border community
Police estimate the IED, discovered by holidaymakers near a local river, was flown from the Hamas-controlled enclave via a balloon, but it's unclear how long ago; incident comes just hours after a barrage of rockets fired by Gaza militants hit southern Israel
An explosive device hidden in a book was found in an Israeli community bordering the Gaza Strip on Saturday. The device was discovered by holidaymakers near a local river at Kibbutz Re'im. Police sappers were called to the scene and neutralized the device.
No injuries or damage was reported.
Police estimate the device made its way from the Hamas-controlled enclave via a balloon attached to it. But, it's unclear when it was flown to Israel and for how long the device remained on the ground before being discovered.
"We are urging the public to be aware of any suspicious object," the police said in a statement. "If you come across a suspicious object, call the emergency hotline and leave it to be inspected by the professionals."
The incidents comes less than a day after a barrage of rockets from Gaza hit southern Israel late on Friday. Israeli police said shrapnel from one of the projectiles damaged a house in the southern town of Sderot and video footage showed a car near the structure with windows blown out by debris.
Israeli military responded with a series of airstrikes on militant sites in the enclave, resulting in the death of one Palestinian. Gaza's Health Ministry said Ahmed al-Shehri, 27, died from shrapnel injuries and three other men sustained moderate or serious wounds.
Witnesses at Nasser Hospital in the southern city of Khan Younis said the three were sitting in an orchard adjacent to one of the militant posts that was hit.
In a statement, the Israeli military said its warplanes targeted military compounds affiliated with Gaza's Hamas rulers. The targets included weapons manufacturing and storage facilities, a naval base and a compound serving Hamas' aerial defense array.
The army "views the rocket attack targeting Israeli territory with great severity and is prepared to continue operating as necessary against attempts to harm Israeli civilians," the military said.
Associated Press contributed to this report