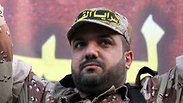 Islamic Jihad military commander Baha Abu al-Ata
The dilemma Israel faces in Gaza is not if but when to go to war
Analysis: Islamic Jihad is widely believed to be behind the latest rocket fire on Israeli communities; while Israeli sources claim Hamas is trying to rein in the second largest terror group in the enclave, the Jewish state still has to prepare for a wide-scale operation
Following a barrage of Gaza rockets that hit Israeli communities bordering the coastal enclave on Friday evening, Israeli officials rushed to emphasize that Hamas, which rules the Strip, doesn't want an escalation and is putting a lot of effort in trying to maintain the quiet on the border with Israel.
But, it seems there are some elements in the Palestinian Islamic Jihad - the second largest military faction in Gaza - who are trying to tamper with Hamas's efforts.
The military commander of the Islamic Jihad's Northern Brigade in Gaza, Baha Abu al-Ata, has apparently emerged as the man leading the charge against Israel, and whose own militant agenda is far more radical than that of the organization's leadership, based in Syrian capital of Damascus.
Unlike Hamas, Abu al-Ata has no civilian population to look after and therefor, not receptive to courting and threats made by Egyptian intelligence officials, trying to stop him from dragging Gaza into an all-out war.
The Islamic Jihad, an organization backed by Iran, has in its possession thousands of rockets and missiles – most of them far more accurate than the ones Israel is used to - and some are even capable of reaching the northern part of Israel's coast line.
Hamas leadership, on the one hand, is making sizeable efforts to restrain Abu al-Ata (to no avail), but on the other hand, Gaza's rulers are afraid of being labeled as "Israel's collaborators."
Nevertheless, Hamas is trying to maintain the recent quiet along the volatile border as much as it can. Especially after all its initial demands were answered by the Israelis during the Egypt-mediated talks on a potential long-term ceasefire negotiations. Furthermore, even more excessive demands - like an independent port in Gaza - don't sound as far-fetch anymore as they used to.
Israel, however, still considers drastic military options that would rein in the Islamic Jihad commander, including targeted killings (although exceptional intelligence work would be required in this case).
So, Israel faces a dilemma: does it launch a massive military operation against Hamas and its military wing in order to spur action against Abu al-Ata, risking escalation in the Gaza Strip since Hamas will be obliged to respond. Or, avoid any major military action in the meantime, allowing the Islamic Jihad to gain false confidence, and launch an attack when they least expect it.