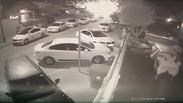 CCTV footage of rocket landing in Sderot Friday
After another weekend was disturbed by rocket fire launched from Gaza at the southern border town of Sderot, residents and local leaders were taken back to days of fear and trauma, appealing to the government to find solutions.
Albert Abuhatzeira, a resident whose home was damaged by shrapnel in Friday's attack, spoke about the moments of horror as sirens began blaring.
"By the time we got to the shelter, there were already explosions outside as the rockets landed," said Abuhatzeira.
Abuhatzeira also shared his frustration, calling on lawmakers, and Prime Minister Benjamin Netanyahu in particular, to act against the threat posed from Gaza.
"While we are in constant distress, they just tell us that the Government's Security Cabinet will assemble. Are we second rate citizens," said Abuhatzeira. "You don't want to send troops into Gaza? Fine. We have enough great pilots in the Air Force who can debilitate the other side, something must be done".
Sderot Mayor Alon Davidi agreed with the criticism sounded by the residents, criticizing what he sees as ineptitude on the government's side, despite continued pleas from local leaders to deal Hamas a fatal blow, even if it would entail a ground incursion.
"We are unable to just get on with it. We live in a difficult reality, finding ourselves running like crazy to find a shelter all the time," said Davidi. "I told the prime minister that there is a terror campaign that has been ongoing for 18 years. Someone is making our lives miserable: Islamic Jihad's commander Baha Abu al-Ata, and while we live in fear, he walks around free".
Former chief IDF coordinator for the West Bank and Gaza, Major General Eitan Dangot said he expected the army to strike back at those responsible for launching the rockets into civilian communities.
"Under the Egyptian brokered understandings between Israel and the Gaza based terror groups, the current situation appeared beneficial for Hamas," said Dangot. "The Rafah border crossing has been opened and money has been flowing into the organization's pockets, while Israel observes the Palestinian factions build their strength".
The Islamic Jihad is following instructions from Tehran. To combat that reality Israel needs a functioning government, able to detect threats and adjust policies accordingly. Still, I don't advocate all-out war at this point".