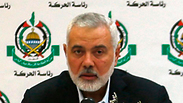 Hamas Chairman Ismail Haniyeh
Photo: AFP
Hamas announced that a potential cut in monetary aid transferred to the Gaza Strip from Qatar may lead to an escalation in violence with Israel, that could even turn into a military confrontation, Lebanese newspaper Al Akhbar reported on Tuesday.

The newspaper, which is affiliated with the Gazan terror group, also reported that Qatari envoy to the Gaza Strip Mohammed Al-Emadi informed the enclave's headship during his last visit, that Qatar will struggle to continue transferring the monthly $ 30 million financial aid to the Strip.

Sources said the organization's leadership would approach the Emir of Qatar Tamim bin Hamad Al Thani with a request to carry on with the transfer of the funds.

Hamas sees only to options to avoid an escalation in case of a cut in funs – either Israel will transfer taxes collected from the private sector in Gaza to the local Treasury, or remove the blockade imposed on Gaza by Israel since 2007.

The Qatari aid to Hamas consists of money paid to Israel to transfer fuel to the Gaza power plant and to pay a monthly stipend to tens of thousands of impoverished families in the Strip. In addition, Qatar finances international humanitarian projects in the Gaza Strip.