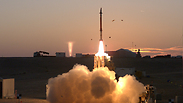 David's Sling during operational testing in 2016
Photo: Defense Ministry
Report: Advanced Israeli missile technology captured by Russia in Syria
Chinese news agency reports that an interceptor missile from the David's Sling defense system, which fell in Syria last year, had been taken by Russian troops to Moscow for reverse engineering purposes; Russia, IDF decline to comment
Russia has in its possession an advanced Israeli interceptor missile belonging to the David's Sling defense system, designed to intercept planes, drones and ballistic missiles, New China News Agency reported Wednesday.

According to the report, one of the two missiles launched by Israel at targets in July of last year, apparently fell on Syrian territory and was later captured by the Russian forces in the area.




On July 23, 2018, Israeli military activated David's Sling for the first time since the operational testing was complete after it identified two OTR-21 Tochka missiles (a Soviet tactical surface-to-surface ballistic missile) heading toward the Golan Heights.

One interceptor destroyed the Russia-made missile and exploded, while the other missed and landed in Syria.

The report says that Syrian military dispatched a special forces unit to the area of the crash and was able to locate the Israeli missile, which sustained only minor damage. The force took the missile to a Russian military base in the area, and from there it had been flown straight to Moscow for the purpose of exploring its technology (a process called reverse engineering).

When reached for comment, Israeli military said it "doesn't comment on foreign reports."

David's Sling has been jointly developed by the Israeli defense contractor Rafael Advanced Defense Systems and the American defense contractor Raytheon and is meant to eventually replace the MIM-23 Hawk and MIM-104 Patriot in the Israeli weapons arsenal.

The defense system is capable of intercepting targets up to 400 miles away and is on par with S-400 Russian missile system.

The Chinese report, which was cited in various Russian media outlets, adds that Russia can improve its air defense system using Israeli technology. Moscow has so far not commented on the report.