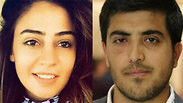 Heba al-Lebadi and Abdelrahman Meri
Two Jordanian civilians detained in Israel since August on suspicion of contact with a foreign agent were released Wednesday morning, bringing an end to a saga that has strained already tense ties between Jerusalem and Amman.

The two were swiftly returned to Jordan upon their release. Heba al-Labadi, 32, had been held at Neve Tirtza women's prison in central Israel and 29-year-old Abdelrahman Meir at Ofer Prison in the West Bank.




Jordanian Foreign Minister Ayman Safadi announced their imminent release on Monday, the same day as National Security Adviser Meir Ben Shabbat visited Jordan to confirm they were to be freed and to finalize security arrangements.

Jordan was expected to return its Ambassador to Israel Ghassan Majali following the release, after he was recalled by Amman in protest at the detentions.

Israel praised the decision to return Majali, calling its ties with Jordan "a cornerstone of regional stability."

The two Jordanians were arrested separately at Allenby Crossing as they sought to visit family in the West Bank. Lebadi, who holds a Palestinian ID card, is suspected of being contact with a foreign agent and of supporting terrorist activity.

Her attorney said that the suspicions were based on her meeting with Hezbollah-affiliated people during two visits to Beirut.

Meri was arrested while on his way to a family wedding. According to Jordanian sources, he has been suffering from cancer since 2010.

The arrests exacerbated the already troubled relationship between Israel and Jordan.

Last week marked the 25th anniversary of the historic peace treaty between the two countries, but no Israeli government officials addressed the date, and neither the Jordanian embassy in Tel Aviv nor the Israeli mission in Amman held an event to mark the event.

In addition, the Foreign Ministry and respective embassies in Tel Aviv and Amman decided not to hold an event to mark the date.




Lebadi's mother, Randa, who was with her daughter when she was arrested, told Ynet she had been a frequent visitor to the West Bank and had never encountered any issues with Israeli security.

"Heba has come and gone to the West Bank dozens of times and there has never been a problem. Suddenly they separated us on the Israeli side and took her away for questioning.

"I thought it would probably be over quickly and that everything was fine," she said, adding that she waited for 17 hours at the crossing until she was told that the investigation was continuing.

"I left but haven't seen her since," she said.

Following her arrest, Lebadi claimed to have been abused in detention and began a hunger strike. Her condition eventually deteriorated to the point at which she needed hospital treatment.

Her mother said she had been told that her daughter was in poor condition, cuffed at the hands and legs in a small room, and that if she needed the bathroom she had to ask for permission and wait an hour.