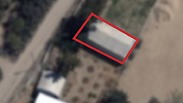 IDF attack in Gaza
Photo: IDF Spokesperson's Unit
IDF officer: We target empty Hamas posts to avoid escalation
Colonel stationed along Gaza border says attacks are designed 'to send a message that we do not want any further incidents' while senior military source says most strikes follow 'knock on the roof' or after troops confirm there are no militants in targeted location
Israel is pulling its punches when retaliating to attacks from Gaza in order to avoid a further escalation in violence, a senior IDF officer claims.

Four hours after the terror group's Friday night rocket barrage on the city of Sderot and other neighboring communities, IDF fighter jets attacked Hamas targets in the Gaza Strip. But the army seemed to be waiting for the group's activists inside to evacuate before beginning its bombing.

"I often explain to my soldiers that we wait until the target clears before we fire at it, in order to send a message that we do not want any further incidents – such as an infiltration attempt from the Gaza strip to Israeli territory, direct fire or artillery fire," says Lt. Col. Yoav Schneider, a battalion commander in the Gaza Division, which is posted to the Gaza border.

"On the other hand, we want to maintain a balance of power that won't drag us into war."

Schneider's comments were apparently backed up by a senior military source who said that every shot fired by the IDF comes only after an assessment of the situation.

"Every attack carried out by the IDF has an operational purpose, including attacks on terrorists and attacks on infrastructure," said the source. "The decision to carry out an attack is taken according to an assessment of the situation.

"In the past year, IDF soldiers on the Gaza border have also fired at manned positions. In many cases, when there's an escalation in violence on the border, Hamas militants evacuated the outposts out of fear of getting hurt."

Most of the attacks are carried out according to the "knock on the roof" policy or after troops confirm there are no Hamas militants left in the targeted building.

"Knock on the roof" is the practice of dropping non-explosive or low-yield devices on the roofs of targeted civilian homes in the Palestinian territories as a prior warning of imminent bombing attacks to give the inhabitants time to flee.