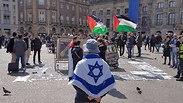 Pro-Israeli protestor in front of a BDS demonstration
The Ministry of Strategic Affairs announced on Wednesday that it will allocate NIS 2 million (roughly USD $273,000) to produce and promote viral videos across social media in an effort to fight against Boycott, Divestment and Sanctions (BDS) movement; a Palestinian-led campaign promoting various forms of boycott against Israel.

The funds will be transferred to pro-Israeli advocacy organizations making viral videos with the intent of increasing familiarity with the Jewish state, exposing BDS lies, and mobilizing other pro-Israel activists to combat those who delegitimize and boycott it.

"This is another important step to assist Israeli advocacy around the world," Minister for Strategic Affairs Gilad Erdan said in a statement. "We will continue to present the just truth about Israel and fight the lies and incitement of BDS organizations."

The move is part of a greater initiative that has begun last year by the Ministry of Strategic Affairs, to advance NIS 6 million for pro-Israel organizations from all over the world to promote the Jewish state over social networks.

Hebrew media outlet Hakol Kore reported that the videos will be produced in English, French, Spanish, Portuguese, German, and several other languages.