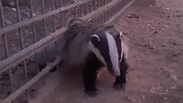 The badger in the border fence
Photo: Israel nature and parks Authority
Israeli soldiers took part in an unusual operation this week, trying to rescue a badger, one of Israel's rarest predators, that was caught in the fence on the Israel-Syria border in the Golan Heights.
An IDF soldier on patrol in the Tel Saki region in the southeastern part of the Golan Heights noticed the lone wounded badger struggling to get through the fence's metal bars on the Syrian side of the border. The soldier called on troops from commando Unit 101 stationed in the area to try and free the animal.
The troops then received further assisted by the workers of the Israel Nature and Parks Authority (INPA) who arrived to lend their helping hand.
Badger rescue in Syria border (צילום: רשות הטבע והגנים)
"As soon as I received a report about a badger stuck inside the fence, I made sure to connect the 101 Unit forces with the Nature and Parks Authority in order to allow the veterinarian to reach the area under our the troops' protection to treat the badger," said
said an officer from IDF's Bashan division (a territorial division in the IDF Northern Command).
Uriah Vazana, an INPA park ranger, arrived at the scene with a volunteer veterinarian, Doron Tiomkin, after receiving the call from the IDF. "We started the treatment immediately, starting with sedating the badger so she wouldn't resist our rescue attempts," he said "After we got her out, we made sure she was unharmed and later released her near a water source in known badger territory."
Vazana thanked the soldiers and officers in the area, saying the rescue was made possible thanks to their quick actions at the scene.
The rescue effort was part of the Army for the Protection of Nature project, a joint initiative of the IDF and Ministry of Defense
and the INPA story.
The intiative, started five years ago, is a project encompassing all the corps of the IDF with a goal to provide soldiers and officers the needed knowledge and resources to help protect Israel's environment.
According to the INPA, the common badger is quite common in the entire Mediterranean region and can be found from the outermost northern parts of Israel down to the southernmost region of the country.