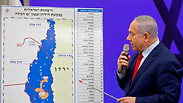 Netanyahu present his plans for annexing parts of the West Bank
Photo: AFP
A coalition of U.S. Jewish organizations sent a letter Wednesday, to leaders of Israel's political parties, warning them against full or partial annexation of the West Bank.
Authors of the letter stress, that even if the administration of U.S. President Donald Trump appears to support annexation plans, it would be wrong for Israel to believe this will always be the policy of the American government.
"Simply put, the approach of this president does not represent the long-term interests and likely future policy of the United States," the letter warns.
The letter also made clear that any annexation could damage the important relationship with U.S. Jewry, because as it claims "the vast majority of American Jews support a two-state solution to the Israeli-Palestinian conflict."
The letter was signed by 13 groups, including 10 members of the Progressive Israel Network, an umbrella coalition that includes J Street and the New Israel Fund.
Before the September elections, Prime Minister Benjamin Netanyahu announced he will annex large swathes of the West Bank if elected.
Netanyahu's election pledge met with international condemnation including Jordan Israel's neighbor to the east with which it has a peace treaty, reportedly considering down- grading diplomatic relations should the annexation plan go ahead.