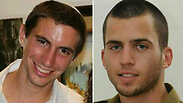 Hadar Goldin and Oron Shaul
Israel has denied reports of a breakthrough in talks with Hamas regarding the return of two Israeli hostages and the two bodies of IDF soldiers being held in the Gaza Strip, accusing the terror group that rules the coastal enclave of inflexibility and adopting unrealistic positions.

The chief negotiator for the release of prisoners, Yaron Blum, told KAN radio that the report of progress by Saudi-based Independent Arabia was untrue, and that the lack of development was due to Hamas.

"Unfortunately, and despite all of our efforts, Hamas has refused to adopt a realistic position on the issue, which has hindered any real progress," Blum said.

Hamas has been holding the bodies of IDF soldiers Oron Shaul and Hadar Goldin since 2014, when they fell in combat during Operation Protective Edge.

Along with the bodies of Shaul and Goldin, Hamas is also holding Avera Mengistu and Hisham al-Sayed - two Israeli citizens who crossed into Gaza in 2014 and 2015.

According to the Independent Arabia, senior delegations from Israel and Hamas had arrived in Cairo to start negotiations for the hostages.

An unnamed source quoted in the report said that the talks initiated by the Egyptian government centered around the exchange of the Israelis for Palestinian bodies held by the Jewish state.

Israel denied the report, saying that the Hamas delegation was not in Egypt to discuss the hostages.

"There is no progress in any sort of talks between Israel and Hamas, due to Hamas' inflexibility," an Israeli official said.

Minister for Regional Cooperation Tzachi Hanegbi told Channel 12 that there was no Israeli delegation in Cairo and no such negotiations were underway with Hamas.

"We have been making the effort to reach some sort of an agreement for a long time now, but to no avail. Such an agreement is very important, and we hope it will soon come to fruition," said Hanegbi.