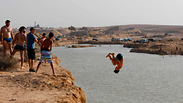 Israelis at Nitzanei Sinai in the Negev Desert
Photo: AFP
November heat not seen in nearly decade strikes Israel
Meteorologist say the heatwave this long, which began five days ago and is expected to last for another week, haven't been experienced in Israel since 2010 when a three week long hot temperature led to the Carmel Mountain Forest Fire that killed 44 people
With less than a month left until the onset of winter, Israel is still in the midst of a record heatwave. The last time the temperatures soared so high this time of year was in 2010, when the fire erupting from the extreme heat on Mount Carmel in northern Israel, lead to the death of 44 people, making it the deadliest in Israeli territory.

The heatwave, which saw temperatures rise above 30 degrees celsius began five days ago and is expected to last at least for another week.

"For almost a week we have been experiencing a meteorological phenomenon, which causes a south-east flow in our region and brings the air from Saudi Arabia and Jordan," said Meteo-Tech forecaster Tzachi Waksman. "Low levels of humidity are mixed with high humidity in upper levels of the atmosphere brought straight from tropical parts of Africa, which might lead to drizzles in eastern parts of the country."

Waksman adds that high atmospheric pressure above Israel, which stretches from Iran all the way to Greece, blocks the cold air from central Europe to penetrate the local atmosphere.

"The last time a heatwave this long struck was in November 2010, when it lasted for almost three weeks," said Waksman. "November heatwaves happen almost every year, but usually last up to two days … This is long and unusually long."

In the northern city of Haifa, the temperatures will range from 32 degrees celsius during the day Sunday to 23 degrees at night. In Tel Aviv, the weather will be less warm with a range of 29 degrees during the day and 19 degrees at night. In the southern city of Be'er Sheva, temperatures will range from 30 degrees throughout the day to 20 degrees at night. In Jerusalem, the temperatures will reach 26 degrees celsius during the day and falling to 23 degrees overnight, while in the southernmost city of Eilat the weather will be 33 degrees during the day and 23 degrees at night.

According to the Meteo-Tech meteorological company, northeast wind and northwest wind in the Mediterranean Sea will reach a speed of up to 30 kph (19 mph), while the waves could reach heights of up to 90 cm (3 feet).