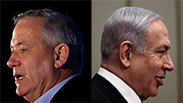 Benny Gantz and Benjamin Netanyahu
Photo: Reuters, EPA
Liberman shuffles the deck in the house of cards of Israeli politics
Analysis: Yisrael Beytenu chairman gives leaders of Israel's two largest parties an ultimatum to form a government, but so far it does not seem to have pushed either Netanyahu or Gantz into taking serious steps to compromise on power-sharing
Blue and White leader MK Benny Gantz has only 11 days left to form a government under his leadership, but on Saturday night, Avigdor Lieberman reshuffled the deck once again.

The Yisrael Beytenu chairman demanded that Prime Minister Benjamin Netanyahu and Gantz - who head the country's largest political parties - compromise to form an unity goverment. But the ultimatum has yet to lead a to change in the parties' positions, at least not publicly.

Liberman said that he would ask to meet with both Gantz and Netanyahu in the coming week, but so far at least, no such meetings have been scheduled.

The Yisrael Beytenu leader is demanding that Gantz accepts President Reuven Rivlin's compromise government outline, including giving the rotating premiership to Netanyahu first.

Of Netanyahu, Liberman demands he sever ties with what he calls the prime minister's "ultra-Orthodox-messianic bloc."

According to Liberman, if one of the parties refuses to agree to his terms, he will support the other one.

In response to Liberman's demands from Gantz, Blue and White urged Likud to explain what this outline comprises.

Blue and White officials said in response to Liberman's ultimatum that, "Gantz is willing to accept President Rivlin's government outline, but since negotiation talks have started, Likud can't explain what this outline includes and when should Netanyahu step down from office."

A Blue and White source said that Likud has sent a clear message that Netanyahu would only step down after any trial in his corruption cases reaches the evidentiary stage, essentially turning it into immunity for the prime minister.

The main question is whether Netanyahu steps down if he is indicted. He is insisting that he should only step down at the evidentiary stage of his trial, if at all. However, Blue and White insists Netanyahu should step down as soon as he is indicted.

Another Blue and White official hinted at supporting Liberman's proposal, saying it poses a challenge.

On the other hand, a Likud senior official said that it seems that Liberman is trying to push for a narrow government headed by Gantz and supported by the Arab parties.

All this, as stated, with Gantz having only 11 days until the end of his mandate to form a government.

"I expect them both (Gantz and Netanyahu) to make the right decisions," said Liberman. "I intend on calling them both and set up a meeting this week. We at Yisrael Beytenu will make our conclusions if both individuals cannot make the right call. We want to see a government being formed first and foremost."

If Gantz fails at forming a government or the government he establishes does not get a majority vote in Knesset, the MKs will get a shot at determining who will be the next prime minister.

If Gantz announces that he cannot form a government - any MK who can muster 61 MKs to support them in the following 21-day period could appeal to Rivlin to be given the task of putting together a coalition.

If the president approves the MK's request, they will then be given a 14-day period to establish a government.

In case they also fail at forming a government, Israel will go into another round of elections – third one in a year.