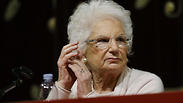 Holocaust survivor Liliana Segre speaks with young students on occasion of an Holocaust remembrance
Photo: AP
Rivlin invites Italian Holocaust survivor who received threats to visit Jerusalem
'What happened to you is another example of the reality the Jewish people face in Europe today,' writes president to former Auschwitz prisoner Liliana Segre, 89, who now has police protection after uptick in attacks as she battled anti-Semitism
President Reuven Rivlin on Sunday invited to Jerusalem a Jewish Italian politician and Holocaust survivor who has been the victim of anti-Semitism in her own country.
Rivlin wrote to Senator Liliana Segre, wjo survivied Asuchwitz, in a show of support for the 89-year-old, after she revealed that she faces hundreds of anti-Semitic attacks online every day and has even been assigned a police escort due to threats. .
"I was appalled to hear that in order to ensure your safety, it was decided to assign you with regular security," Rivlin wrote. "Unfortunately, what happened to you is another example of the reality the Jewish people face in Europe today."
In response to revelations that she is subject to hundreds of social media attacks each day, Liliana Segre called for the creation of a parliamentary committee to combat hate, racism and anti-Semitism. Parliament approved her motion - but without votes from Italy's right-wing parties.
Matteo Salvini's euroskeptic League party, Silvio Berlusconi's center-right Forza Italia and Giorgia Meloni's far-right Brothers of Italy all abstained, in a move that defied the kind of social consensus that has marked Italian post-war politics.
The vote, along with a round of racist chants in a soccer stadium, focused attention on what observers say is a growing boldness in anti-Semitic and racist attitudes in Italy, and the role of politicians in sanctioning them.
The rise in anti-Semitism has come alongside a climate of intolerance toward migrants arriving from Libya that found ferment during Salvini's tenure as interior minister, marked by a refusal to allow humanitarian rescue ships to land in Italy.
Segre was 13 when she was sent to Auschwitz, where her father and paternal grandparents were killed. She has spent the last several decades recounting her experiences during the Holocaust to young people.
Associated Press contributed to this report