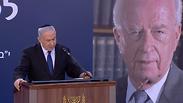 Netnayahu speaking at Rabin memorial ceremony
Benjamin Netanyahu lashed out Sunday at accusations that he had allowed his supporters to brand Yitzhak Rabin a traitor, during the ceremony in Jerusalem to mark the 24th anniversary of the prime minister's murder by a far-right Jew.

Speaking at the official ceremony on at Mount Herzl to commemorate the late prime minister and his wife Leah, Netanyahu claimed the allegations were false, sayign that he had seen Rabin as mistaken in his push for peace but not a traitor.

"We had substantive disagreements over the Oslo accords," Netanyahu said.

"I represented a major part of the public that saw the agreement with the Palestinians as dangerous and wrong and that was a legitimate stance," he told the gathered crowd, which included President Reuven Rivlin, Knesset Speaker Yuli Edelstein, DeputyChief Justice Hanan Melcer and the Rabin family.

"I said on many occasions that Rabin was not a traitor, he was mistaken but not a traitor" Netanyahu added.

"After the murder efforts were made to stain our entire political camp. Calling people traitors, treasonous and worthy of death continue today but I do not lay blame on the political camp from which these calls are coming," Netanyahu said.

The prime minister also declined to walk over to greet the Rabin family after his speech, unlike President Reuven Rivlin who spoke before him.

"The days before Rabin's murder were days of intense and legitimate public debate, that descended in some cases to criminal incitement and defamation that motivated the murderer to try and assassinate Israeli democracy," the president said.

"We mustn't forget the slippery slope from incitement and hate to bloodshed," Rivlin said, imploring all political camps not to "fuel hate. It is not the way of the Israeli nation."

Rabin was assassinated on November 4, 1995 a right-wing extremist as he left the stage at a peace rally in Tel Aviv.

Rabin won the Nobel Peace Prize in 1994, along with his long-time political rival Shimon Peres and Palestinian leader Yasser Arafat. In the same year he signed the peace treaty with Jordan that is currently marking its 25th anniversary.