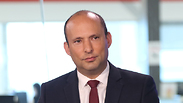 Naftali Bennett
Photo: Avi Moalem
When Prime Minister Benjamin Netanyahu and MK Naftali Bennett of New Right met on Friday, and Netanyahu offered Bennett the position of defense minister, it's highly unlikely he managed to cover all the threats and challenges currently facing Israel.

Bennet is not a member of the security cabinet, and since he left government six months ago, there have been quite a few strategic changes that saw Israel's security situation worsen.

It's true some of these changes are known to all via the media, but there are also a few sensitive subjects about which there has been silence,

Bennett wiill likely be thrown in at the deep end much faster than he can imagine, and that includes making important decisions without proper on-the-job training or detailed orientation.

Bennett is taking up the position at a very crucial time for Israel, when all fronts are bubbling and threatening to blow up.

Iran is warning the world it intends to hasten its nuclear plans, the U.S. is slowly abandoning the Middle East, Hezbollah is becoming brazen - firing an anti-tank missile at IDF troops, and Islamic Jihad is acting freely in Gaza.

In addition to all of the above, there's also the new plan meant to streamline the IDF, formulated by IDF Chief of Staff Aviv Kochavi, in coordination with Netanyahu. This is a plan Bennett will have to study quickly, and work hard to get it approved by the government.

In order to effectively face all these issues, the new defense minister will also have to fight for a substantially bigger budget.

Bennett has declared he feels he has to leave his mark on Israel's history, but his time to accomplish his grand goal is running out.

He doesn't want to be remembered in the same way as Labor leader Amir Peretz, who held the post during the Second Lebanon War, and whose performance is largely seen as incompetent.

No doubt he would prefer to be remembered like Moshe Arens, who served as defense minister more than once and who is remembered fondly by Israelis as a strong leader.

But taking into account all the challenges Bennett is facing, both political and security, the likelihood that he'll succeed in making his mark seems slim.

The new minister will however have an excellent military secretary at his disposal. Brig. Gen. Ofer Winter is a very good friend of Bennett who has also served as Netanyahu's military secretary and has the prime minister's trust.

It'll be up to Winter to get Bennett up to scratch while cleverly managing his relationships with both his previous boss (Netanyahu) and his new boss.

Of all the members of government, it's clear that Bennett is indeed among the most well-versed in security matters, as was proven when he was a member of the security cabinet during the Israel-Gaza conflict of 2014.

Then, he showed he understood the conflict better than then-defense minister Moshe Ya'alon, then-IDF Chief Benny Gantz, and the former head of the Military Intelligence Directorate, a certain Aviv Kochavi.

Ever since he got into politics, Bennett has expressed a strictly right-wing stance regarding Hamas' activities in Gaza, but when the city of Sderot suffered a barrage of rocket fire last week, Bennett was suddenly singing a song of restraint.

It seems his long-held stance dissolved in an instant together with his criticism of Netanyahu's policy of restraint, both vanishing after he accepted Netanyahu's offer to become a defense minster.

Apparently, Bennett - like many before him - understands that the higher you climb, the clearer the view.