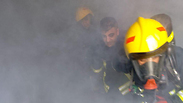 With less than a month to go until the official start of winter, Israel is still in the grip of a record heatwave that has led the Fire Service to ban bonfires.
The last time the temperatures soared so high at this time of year was in 2010, when a massive forest fire caused by extreme heat on Mount Carmel in northern Israel led to the deaths of 44 people and saw more than 50,000 dunams (12,000 acres) burned.
Israel regularly suffers from wildfires on the summer months, although rarely on a massively destructive scale. The 2010 Carmel fire was the worst in the country's history.
On Monday, firefighters on the ground and in the air were battling two forest fires in the north.
Two planes and three teams on the ground were dispatched to a blaze at the Druze village of Ein al-Asad in the Galilee and four planes and four teams were dealing with a fire in the predominantly Arab city of Shfaram.
On Sunday, a large wildfire began in woodland around northern Kibbutz Ein Shemer, with firefighters battling the flames for over five hours as they tried to draw the inferno away from residential homes.
The flame was eventually brought under control by firefighters from Haifa, using a fleet of fire-fighting aircraft to douse the flare. It is still unclear what caused the blaze, but officials believe it could be the unseasonable heatwave.
Fearing additional blazes, Israel Fire and Rescue Services chief Dadi Simchi on Sunday ordered the nationwide ban on campfires.
The restriction went into effect on Monday and will last until Thursday, encompassing open spaces, national forests, parks and woodlands.
The ban further also includes a restriction on any technical work that might involve sparks or flames.
Fire service officials also said that following assessments with Israel Police, Home Front Command, Jewish National Fund (which caretakes Israel's forests), Nature and Parks Authority and municipal councils, a decision was made to raise the level of alert and reinforce fire-fighting teams, including fire tankers and volunteers.
Ahiya Raved contributed to this report