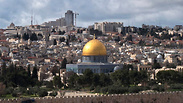 Almost half of Israel's population lives in 16 cities of more than 100,000 residents, according to a Central Bureau of Statistics report released on Monday.

According to the report, 44% of the population lives in Jerusalem, Tel Aviv, Haifa, Rishon Lezion, Petah Tikva, Ashdod, Netanya, Be'er Sheva, Bnei Brak, Holon, Ramat Gan, Rehovot, Ashkelon, Bat Yam, Beit Shemesh and Kfar Saba.

Ten of these cities are in the central part of the country.

The data shows there are 1,218 localities in Israel, of which 1,090 are Jewish and 137 are non-Jewish - including nine mixed localities, which are included in both the Jewish locality and non-Jewish locality counts.

The largest city is Jerusalem, with 919,438 inhabitants and the smallest locality is Ruah Midbar, a rehabilitation center in southern Israel with only 52 residents - roughly the average number of tenants in a 16-apartment building.

Hadera, Herzliya and Modi'in Maccabim-Reut all have populations nearing 100,000, with between 92,000 and 96,000 residents.

The largest city among non-Jewish communities is Nazareth with 77,064 residents, followed by the Bedouin city of Rahat and Arab city of Umm al-Fahm with 69,032 and 55,182 residents respectively.

There are 14 additional non-Jewish communities with over 20,000 residents, including Tamra, Sakhnin and Baqa al-Gharbiya.