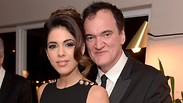 Quentin Tarantino and Daniella Pick
Photo: Gettyimages
Movie director Quentin Tarantino and his Israeli wife Daniella Pick have rented a house for NIS 80,000 per month in an affluent area in North Tel Aviv.

The pair married last year in their Beverly Hills home, and Pick's pregnancy was announced in late August. This is the first marriage for 56-year-old Tarantino and 35-year-old Pick.

According to Globes, the two have procured a two-story 500 square meter house that sits on a 600 square meter lot and is located near the largest plaza in Tel Aviv, Kikar Hamedina.

The metropolitan area is filled with boutiques, cafes, and gyms.

Daniella Pick is a model and the daughter of famous Israeli musician, Svika Pick. The two met while Tarantino was promoting his 2009 film in Israel, Inglorious Basterds, which told the story of a group of Jewish soldiers killing Nazis during WWII.

Tarantino and Pick got engaged in July 2017 and tied the knot in November 2018 in an intimate ceremony at their Beverly Hills home.

The star-studded ceremony was attended by many of the Oscar-winner's frequent collaborators, including Uma Thurman, Samuel L. Jackson and Bruce Willis.

In an interview in June with Ynet's sister publication Pnai Plus, the model emphasized how much Tarantino enjoys being in Israel.

"Quentin also comes with me almost every time I fly to Israel and goes out when we're here a lot," she said.