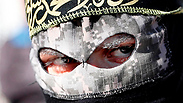 Islamic Jihad fighter
Photo: AFP
While Islamic Jihad launched multiple waves of rocket strikes on Israel on Tuesday, Hamas appeared undecided about joining the fight.

Islamic Jihad has a substantial arsenal of rockets, not much smaller than Gaza's ruling Hamas movement, but has less of an underground launching capability, whcih has already been targeted by the IDF.

After the first wave of rockets was fired early Tuesday, most of which were pre-positioned and prepared for use by the terror group in advance, Islamic Jihad began scrambling to assemble their missiles and launchers in order to continue their attacks.

But the IDF has been preparing for this kind of eventuality and is monitoring the Gaza Strip using UAVs and other intelligence-gathering tools.

There are occasional IAF strikes of militants either on their way or already attempting to launch rockets.

This might explain the reduction in rocket fire in the later morning hours and into Tuesday afternoon.

The group is using shorter-range rockets and targeting mostly border area communities.

The Israeli defense systems that were deployed around the country have so far intercepted dozens of rockets and have provided citizens with a degree of security.

Still these systems are not foolproof, and people are cautioned to heed the Home Front Command instructions.

It remains to be seen whether Hamas will join this latest round of fighting in full force, despite its rhetoric.

It is also unclear what Islamic Jihad's capabilities are following Israeli strikes on its missile launching appatarus.

The current situation is that all sides have signaled their intentions and are prepared for any developments.

The Egyptians are involved once again in efforts to return calm to the Gaza area, with cooperation from Hamas.

All indications are that Hamas is attempting to restrain the Islamic Jihad because a large-scale operation will result in the Gaza rulers compromising any achievements gained recently to benefit the population.

However, more Islamic Jihad rockets are expected into the night.

One thing that can be said decisively is that the IDF has reclaimed its deterrence where the Gaza factions are concerned and both Hamas and Jihad's restrained public statements can attest to that.

There is a good chance that this cycle of violence will fade out within the next couple of days. Depending of course, on all sides to the conflict share a desire to see its end.