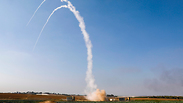 Iron Dome missile defense system
Photo: AFP
Newly appointed Defense Minister Naftali Bennett announced Tuesday a 'special situation' in the home front for communities within 80 kilometers (50 miles) of the Strip, which means special security measures would be put in place from the Gaza border communities, to Jerusalemm, Tel Aviv and as far north as Raanana.

Bennett's announcement came on the advice of defense officials and the directive is set to be valid for 48 hours, unless prematurely annulled by the government or the defense minister.

The announcement may indicate that the Israeli government believes the rocket fire from Gaza will continue at least in the next 48 hours.

IDF Spokesperson's Unit said Tuesday that fighter jets bombed several Palestinian Islamic Jihad targets, including a training complex of the terror group's maritime forces, a shaft of an offensive terror tunnel in the northern Gaza Strip and a construction site of another offensive terrorist tunnel in the center of the Strip.

Palestinian authorities have reported 5 casualties in IDF attacks since the beginning of the current round of violence, which started after the Iranian-backed militia's commander in northern Gaza Baha Abu al-Atta and his wife were killed in an IDF airstrike.

The terror group has vowed to avenge Abu al-Atta's death and launched a barrage of hundreds of missiles at southern and central Israeli communities. Magen David Adom (MDA) EMTs and Paramedics have treated 39 people, all of whom we're lightly wounded. Amongst the wounded were 2 men ages 30 and 55 who were injured by shrapnel in the Beer Tuvia Regional Council, another 20 who were injured on their way to the shelters and 17 with stress symptoms.