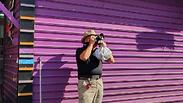 Tourist in Tel Aviv
photo: Assaf Kamar
The ongoing wave of rocket fire from Gaza following the killing of an Islamic Jihad commander has seen many of Tel Aviv's residents preferring to stay home, but has failed to deter visitors to the city eager to take in the sights and sounds - and tastes - of the famed Carmel Market (even if some of the vendors are also absent).

Most of the people walking around were tourists, either unaware of the situation or just ignoring it and continuing with their vacation in Israel.

"I woke up at 9 am and went to the beach," says Manuela from Berlin, who didn't hear the sirens on Tuesday mornng.

"Only now did someone tell me that there were rockets fired at Tel Aviv," she says.

Dan from Sweden, who was visiting Israel with his family, heard the news but was not too worried.

"I saw the news in our hotel room, and I understood that something was wrong in Gaza. Suddenly, we heard sirens and were asked by reception to go down to the designated rocket shelters. I think we have nothing to fear," he says.

Dana, a tourist from Germany, says she feels very safe in Israel.

"I didn't even ring my parents. They have no idea what's going on, it's better for them," she says, adding that she knows the security situation in Israel can be precarious.

Roman, also from Germany. says that his lack of concern is down to the IDF's Iron Dome missile defense system.

"I'm not afraid because I know Iron Dome is the best, which is why I'm not anxious about anything hitting the ground," he says.

Sheldon, an American tourist and army veteran, strolls about with a video camera, apparently hoping to snap Iron Dome in action.

But he admits there is difficulty in photographing a flying missile. "It takes some luck," he says.

"There is no reason to be afraid, I went through worst things myself. I feel safe in Israel."

The vendors at the open-air market expressed concern over the economic damage the current escalation could cause and some even expressed anger at the Israelis who avoided visiting due to security concerns.

"Israelis are cowards," says one vendor who asked to remain anonymous.

"Because there are no designated bomb shelters here, they all ditch us and go to the mall instead where they can have fun and drink some nice coffee.

Hamas helps the malls, not the markets."