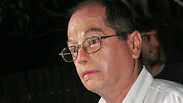 Amnon Abramowitz
Photo: Tzvika Tishler
Islamic Jihad commander Baha Abu al-Ata was targeted for killing because he stood in the way of an understanding being negotiated between Israel and Hamas.

The understanding itself should be a subject of discussion in the Israeli public sphere: How is it that over the past few years, the government of Israel has agreed to elevate Hamas to the position of a partner for negotiations, while the Palestinian Authority is not to be spoken with?




Why is Hamas an asset and the PA an enemy?

The answer is clear for all to see and was articulated publicly: Negotiations with Hamas will not be over land.

The Gaza-based Islamist group is a partner for underhanded business deals, money transfers and prisoner exchanges.

Israel and Hamas will not have to reach a partial or complete diplomatic agreement.

On the other hand, the Palestinian Authority will have to be negotiated with in order to reach a long-lasting solution to the Israeli Palestinian conflict.

Israel's ability to separate the two factions is seen by the government as a win.

IDF Chief of Staff Aviv Kochavi and Shin Bet Director Nadav Argaman both backed the targeted killing of Abu al-Ata.

Had they been opposed to the action because of the political crisis burdening the country after yet another inconclusive election result, they would have been factoring political considerations into the operational decision-making process.

The two security chiefs opposed such an attack in September when Islamic Jihad fired rockets at Ashdod, embarrassing Prime Minister Benjamin Netanyahu who was made to flee the stage during a campaign rally in the southern city.

It was clear at the time that killing the terror group's military commander would have prompted an outbreak of war, and it would have required sanction by the security cabinet.

Military Advocate General Sharon Afek was dispatched to stop the pending attack, even drafting Attorney General Avichai Mandelblit to reinforce his position, and the danger was averted.

After the killing of Abu al-Ata, a rowdy and violent thug, his tiny terror organization brought Israel to a standstill for three days.

What then should we expect if heaven forbid, a joint war with Hamas in Gaza, Hezbollah and Iran breaks out?

In such an event we would not be counting the missiles fired into our cities in the hundreds. We would be under attack by one 100,000 rockets with war heads that could be 10 times the size of those we have just experienced, and with far superior precision.

Iran's entrenchment on Israel's borders, the growth in strength and capability of the terror groups that are threatening our security and missing defensive weapons that could have been in our possession but are not will all one day be the subject of an official investigation.

Such an investigation will have to consider decisions made by the government that have led to such a risk to the security of the civilian population.

The investigation will examine both the speeches made and the failures to provide solutions to security challenges.

Israel's enemies may have failed to defeat the IDF, but they must be overjoyed at their success in bringing daily life in Israel to a halt.

The slim fortitude of Israelis should be a source of hope for our enemies who no doubt followed the endless news feeds depicting panic and distress.

What is more, Israel is still without an elected government.

Blue and White leader Benny Gantz would be wise to remember before he signs onto a national unity government that Netanyahu is not a man of his word and should view with suspicion his claim that he would step aside and respect a rotation agreement for prime minister.

After all, this prime minister will not want to set a precedent in which he is found to be telling the truth.