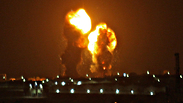 Israeli strikes in Gaza
Photo: AFP
Israeli military strikes Hamas targets in Gaza in response to Be'er Sheva rocket fire
The army says 2 rockets fired at Israel's largest city in the south, just 2 days after a ceasefire had been reached, were intercepted by the Iron Dome; IDF strikes outposts belonging to Gaza's rulers despite the terror group not being targeted in latest flare-up
Palestinian militants in Gaza fired two rockets into the southern city of Be'er Sheva in the pre-dawn hours of Saturday, prompting the Israeli military to respond with a number of air strikes on militant targets belonging to Hamas.

The incident shakes an already tenuous ceasefire reached just two days ago after yet another cross-border flare up. The latest round of fighting was triggered on Tuesday when Israel killed a top commander from the Iranian-backed Islamic Jihad, deeming him an imminent threat. Hamas appeared to have stayed on the sidelines during the flare-up and its military outposts were not targeted by the Israel Defense Forces.

Sirens sounded in at 2am in the morning in the largest city in southern Israel, some 35 km (18 miles) from the Gaza border, warning of incoming fire. The military said the Iron Dome missile defense system intercepted the two rockets.

Soroka Medical Center in Be'er Sheva said at least eight people have been lightly hurt in the incident. Most were injured while making their way to a bomb shelter in a hurry in the middle of the night.

A few hours later, Israeli aircrafts carried out several airstrikes, targeting struck a number of militant outposts belonging to Hamas, the Islamist group that rules Gaza. No injuries were reported.

Israel's military, however, said on Saturday that it would hold Hamas responsible for any attack emanating from Gaza. "Hamas will bear the consequences for actions against Israeli civilians," it said in a statement.

The statement appears to deviate from the policy adopted during the latest round of fighting where Israel openly blamed the Islamic Jihad for the violence and urged the Hamas militants not to join the Iran-backed group in order to avoid a further escalation.

Gaza medical officials said that over the past week 34 Palestinians had been killed in the two days of fighting, almost half of them civilians.

At the same time, hundreds of rocket launches by militants paralyzed much of southern Israel and reached as far north as Tel Aviv, sending entire communities to shelters. Dozens of Israelis were injured.