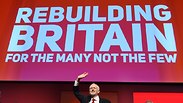 Labour Leader Jeremy Corbyn
Photo: AFP
A Labour candidate in the 2019 general elections co-founded and ran a secret Facebook group focused on advising party members, including alleged Holocaust deniers, how to beat charges of anti-Semitism - the Daily Mail, Labour against anti-Semitism and Gnasherjew, a group of Jewish investigative journalists and ex-Labour members, reported on Sunday.

According to the probe, Labour's Maria Carroll, a Jeremy Corbyn supporter and a candidate standing in the marginal seat of Carmarthen East in Wales in the 2019 general elections, co-founded and ran the Labour Party Compliance: Suspensions, Expulsions, Rejections Co-Op group on Facebook.

The group is said to be inaccessible by an open internet search, with its membership list hidden from non-members.

The group allegedly advised Labour members on how to counter the allegations of anti-Semitism, with at least two alleged Holocaust deniers - Alan Bull and Mollie Collins, both Labour activists, - counseled on how best to deal with internal party reviews by the Compliance Unit.

The two were advised to delete all of their anti-Semitic posts but those posted in the secret group and to refuse to co-operate with a Labour probe unless the investigators shared all data the party had on them.

Wary of potential damage, Carroll sought to keep the group under the radar, posting: "REMINDER: Posts from this group are not to be shared."

Carroll denied the allegations saying she had not seen the social media posts in which they circulated these views.

She claims to have left the group sometime after the 2016 Labour elections as it turned increasingly anti-Semitic, but her most recent post to the group was in May this year.

After Jeremy Corbyn took over the Labour party in 2015, it has been mired in allegations of anti-Semitism, with a range of lawmakers resigning over the issue.