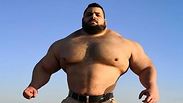 Photo: Gharibi's Instagram
Photo: Instagram
Sajad Gharibi, the bodybuilder and internet sensation who goes by the name "Iranian Hulk" has announced on social media that he joined the Bare-Knuckle Fighting Championship.

Gharibi stands at 1.87 meters and weighs about 180 kg.

Gharibi, 27, also known as the Persian Hercules, is set to debut next year, BKFC President David Feldman said.

"We're going to do a show entitled 'USA vs. Iran: World War III,'" Feldman said.

"Gharibi is literally our biggest signing we've ever had."

The 27-year-old has been unveiled as the latest signing by the American fighting organization and is expected to step into the ring in 2020.

Gharibi gained fame in 2016 following an Instagram post where he vowed to join the fight against ISIS.

Gharibi did not name his opponent, but it was speculated to be 29-year-old Romario dos Santos Alves, also known as the Brazilian Hulk.

Alves threatened to "tear off" Gharibi's head in an Instagram video in March.