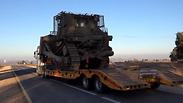 IDF troops on the Golan Heights after rocket fire
Photo: Avihu Shapira
Israel's military said its missile defense system shot down four rockets fired from Syria toward Israel's north early on Tuesday.

Minutes earlier, at around 4:52 am, sirens warning of incoming rocket fire sounded in some parts of the Golan Heights and the Upper Galilee.

"Four launches were identified from Syria towards Israeli territory which were intercepted by the Israeli air defense systems," the army said. "No hits on Israeli communities were identified."

Shortly after the rocket fire, at least four explosions were heard near the airport in the Syrian capital of Damascus, according to reports on Russian Sputnik news agency.

Syrian air defenses are reported to have been activated "against hostile targets" in the southern part of the country.

No further details were immediately available regarding the nature of the explosions and their source.

In the meantime, the heads of Israeli communities on the Golan Heights and the Upper Galilee appealed to the local residents, urging them to return to routine life since no restrictions have been placed on the area by the Israeli military.

In the wake of the incident, Defense Minister Naftali Bennett is expected to hold a security consultation on Tuesday morning with the IDF Chief of Staff Lt.-Gen. Aviv Kochavi and other senior officials in the defense establishment.

The rare rocket fire comes amid heightened tensions between Israel and Iranian proxies along its borders. Prime Minister Benjamin Netanyahu has issued a series of warnings recently about Iranian aggression throughout the Middle East.

Iran has forces based in Syria, Israel's northern neighbor, and supports Hezbollah militants in Lebanon. In Gaza, it supplies Islamic Jihad with cash, weapons and expertise.

Netanyahu also has claimed Iran is using Iraq and far-off Yemen, where Tehran supports Shiite Houthi rebels at war with a Saudi-led coalition backing the government, to plan attacks against Israel. Hamas also receives some support from Iran.