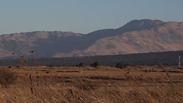 The Syrian border
Photo: Avihu Shapira
Four rockets were fired from Syrian territories at the Golan Heights overnight Tuesday. One can safely assume that the first rocket attack aimed at Israel's north in the past six months was carried out by the Iranians.

This attack is part of Iran's new retaliatory policy aimed at combatting Israel Defense Forces' "in-between wars" campaign, characterized by targeted strikes meant to postpone the next confrontation.

It's safe to assume that Israel's actions against Iranian targets in Syria in the past caused quite a lot of damage to the Islamic Republic and they must have decided enough is enough.

It is no secret that Iran operates proxies while trying to establish its military presence in remote areas of Syria in an effort to build a land corridor from Iran through Iraq to Syria.

Case in point, recent reports say that new facilities are being constructed at the military base in Abu Kamal on the Iraqi-Syrian border – facilities aimed to aid Iran's cross-continental transportation.

Furthermore, over the past few months there have been a number of mysterious airstrikes targeting Iraqi Shi'ite militias along the Iraq-Syria. These militias are backed by Iran and they operate the vital crossings on the Syrian side of the border with Iraq.

Fox News published satellite images overnight Tuesday that eight new construction projects are being built in the same area, at the Abu Kamal military compound also known as "Imam Ali," as well as hangars big enough to hide trucks or large equipment.

It is not the first time the Iranians have responded to attacks attributed to Israel. For example, Iran's foiled attempt to launch explosive-laden drones from the Syrian Golan to Israel back in August, an attempt that was thwarted by the IDF.

This pattern can be expected to continue, increasing tensions in northern Israel.

The IDF does not currently take any exceptional security measures. This can be seen by the fact that schools in the north operate as usual this morning and farmers are also given permission to work in areas near the border.

This shows us that the army sees this pre-dawn rocket fire at the Golan Heights as nothing more than a "routine Iranian reaction" to strikes attributed to Israel.

This is also why Israel has returned to a policy of ambiguity when it comes to actions the military carries out from time to time across the northern border.