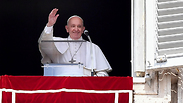 The Vatican said on Thursday the search for peace between Israelis and Palestinians had been put at risk after the United States backed Israel's building of settlements in the West Bank.

Secretary of State Mike Pompeo announced Monday that the U.S. is softening its position on Israeli settlements in the West Bank and parts of East Jerusalem, the latest in a series of Trump administration moves that weaken Palestinian claims to statehood.

"In the context of recent decisions that risk undermining further the Israeli-Palestinian peace process and the already fragile regional stability, the Holy See reiterates its position of a two-state solution for two peoples, as the only way to reach a complete solution to this age-old conflict," the Vatican said in a statement.

"The Holy See supports the right of the State of Israel to live in peace and security within the borders recognized by the international community and supports the same right that belongs to the Palestinian people, which must be recognized, respected and implemented," it added.

Pompeo repudiated a 1978 State Department legal opinion that held that civilian settlements in the occupied territories are "inconsistent with international law." The move angered Palestinians and immediately put the U.S. at odds with other nations working to end the conflict.

"Israel's legal system, which has proven itself fully capable of addressing legal questions related to the settlements, is the appropriate place for these matters to be adjudicated - not biased international forums that pay no attention to history or facts," Prime Minister Benjamin Netanyahu said after the decision.