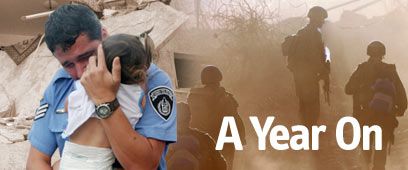 Guy Talmor
Photo: Tal Rabinovsky
'Who could believe we'd ever come back here? It is madness'
Golani warrior Guy Talmor wrote a journal during the Second War of Lebanon. In an interview with Ynet, he recounted those hellish days and discovered the 'cut' in his closing chapter: 'we get home and found a bidet in every bathroom, and all the windows are covered with blankets and camouflage nets. Smash-open the room with a hand-grenade, throw a mattress into the protected space and sleep just there'
"Who could believe we'd ever come back here? It is madness. I only read about Lebanon in books. When Israel pulled out of here, I was 15 and I don't remember much." This is the opening entry in the journal of Netanya's Guy Talmor, 21, a fresh IDF veteran, who fought with the Golani Brigade at Bint Jbeil in the Second Lebanon War. Shortly before going on his big trip to Australia, the memory is still sharp and painful, he said.

Guy's Journal (Photo: Atay Promovich, IDF Spokesman's Office)

"The first place I entered was Bint Jbeil. Reading the newspapers, even my mother knew we were going in. We walked past Marun el-Ras, taking constant artillery and mortar fire. The shells exploded right next to us. They knew we were coming. Some shells fell just a few feet away from us. We had fireworks all the way going in.

"We arrived in the township in the early dawn. We were afraid we might get there in broad daylight because this is the most dangerous time. We were so high-strung that we just squatted in some houses and waited for nighttime before we moved on. That afternoon, Orev Company warriors spotted movement inside Hizbullah homes. Having received wrong coordinates, a chopper fired a missile at the building where the Orev guys were sitting and the deputy commander was wounded."

Did you have an opportunity to think about what happened to you?

"Yes, but never in a single, long session. It was always in small thoughts. After we pulled out of there, I went with some 3-4 friends to see an army psychologist. We talked a bit about how we felt. People were very uptight. We chose not to deal with this because the more you dwell on this, the more it haunts you. It might turn us from warriors into thinkers."

What happened after the war?

"In some personal talks, I managed to get into peoples' emotions, which I logged down, including dreams about next week or next year, after the war. This, however, came later, after I talked to a father of my friend. He fought at the Chinese Farm in the Yom Kippur War and suffered from PTSD. He felt it was important for him to talk to me, and I could relate to him more. I talked to him about my feelings. It helped."

'The senior commanders with the plasma screens did not get this war'

Though the public was very critical about the way this war was conducted, Guy did not impress me as being disappointed or angry. From the point of view of a simple soldier, not a commander or officer, the war was conducted brilliantly. He has reasons to be proud.

"The most senior officers, those who watched it all on their plasma screens, did not know how such a war should be conducted, I think. You could say that is the result of 5 years of our inaction, or that we did not study the other side properly, that we were complacent. We engaged in such warfare in the Lebanon War, which was more than 20 years ago. I think we did things in the best way possible."



Guy's team in BInt J'bail following the evacuation of the dead

Guy's journal includes newspaper clippings that his parents collected while he was fighting in Lebanon. The soldiers in the field received no news on the situation in Israel, and Guy first saw a newspaper headline when he left there. "At one time, we heard Gal Hirsch reporting to the press that we have taken Bint J'bail, and we were still fighting there. We arrived to a house with a radio, heard the announcement on Bint J'bail, and at the same time, we were taking fire."

How did it feel to hear such a statement?

"It was a paradox. You knew something is not working right. I mean, they were ready for us with Sagger positions, firing at us from every direction. Now, you take heavy fire and you hear the reports on the radio, and you realize something is wrong. If there are any complaints, they should be directed at the higher echelons."

Guy explained that he wrote his journal in an attempt to deal with it differently. "It occurred to me that these moments must be documented. Therefore, after we dealt with the dead, on the day after we returned from that operation, I felt - that's it. I cannot hold it inside anymore."

"And how deep is the cut? We start laughing at the effects. We go out to hang with the guys Friday night, but hurry back, before daybreak. Or we got home and found a bidet in every bathroom, and all the windows are covered with blankets and camouflage nets. Smash-open the room with a hand-grenade, throw a mattress into the protected space and sleep just there. The cut runs deep… Designing a graduation shirt. Hoping it is not too early yet. Been there too…"