Ambulances waiting at Ben Gurion Airport

The Burgas evacuation
Photo: Reuters
Thirty-two Israelis who were wounded in Wednesday's terror attack in Sarafovo Airport in Burgas, Bulgaria, landed in Israel Thursday afternoon.
The attack claimed the lives of seven people, five of them Israelis, and left 34 wounded, two of them seriously.
Related stories:
An IAF C-130 Hercules aircraft was dispatched to Burgas in the early hours of the morning to retrieve the victims.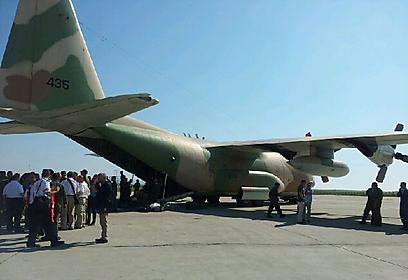 A second C-130, carrying Magen David Adom specialists, was sent to Sofia, where the two Israelis were hospitalized. A source with the medical mission said that their condition is too serious and they cannot be flown to Israel at this time.

The fatalities' identification process, headed by ZAKA, is still ongoing with the assistance of the Military Rabbinate.

Israel Police have sent a team of eight forensic experts to help with the identification process. They are working to retrieve finger prints, blood samples and dental data.

The information will be cross-referenced with DNA samples collected by corresponding forensic teams from the families of the missing tourists in Israel.

Ben Gurion Airport authorities teamed with the MDA to ensure the swift evacuation of the wounded. Some 34 ambulances and medical teams were allowed onto the landing strip to perform the necessary triage.

According to MDA, 11 of the wounded would be transferred to the Soroka Medical Center in Beersheba, seven to Haemek Medical Center in Afula, six to Laniado Hospital in Netanya, two to Assaf Harofeh Medical Center in Zerifinm, the Edith Wolfson Medical Center in Holon and the Sourasky Medical Center in Tel Aviv each, and the remaining two will be admitted to Rambam Medical Center in Haifa and Western Galilee Hospital in Nahariya.

Around 1:30 pm, a plane carrying 65 Israelis who escaped the attack landed in Israel. Two of the passengers that were lightly hurt were taken to a nearby hospital for treatment.

The rest of passengers were cleared by a medical team that was standing by and made their way home independently.
Receive Ynetnews updates directly to your desktop