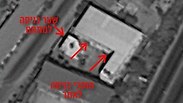 Satellit images of Hezbollah missile factory
Photo: IDF Spokesperson's Unit
The IDF released footage on Thursday evening of a precision-missiles factory belonging to the Lebanon-based Hezbollah terror organization.
The timing of the release appears to have been coordinated to coincide with a speech that was being delivered by Prime Minister Benjamin Netanyahu at the UN General Assembly, during which he warned that the radical Shi'ite organization is producing precision-missiles.
According to Netanyahu, Hezbollah is acquiring the technical know-how from Tehran to convert non-precision missiles into precision missiles to hit Israeli cities.
"Israel also knows what you're doing. Israel knows where you are doing it and Israel will not let you get away with it," Netanyahu said.

Over the last year, Hezbollah has attempted to build an infrastructure for the conversion of surface-to-surface missiles into precision missiles near an airport in Beirut.
Senior members of Hezbollah took the decision to transfer their missile project into the heart of civilian areas in Beirut.
The precision-missiles project is being funded by Iran, which is also providing the technological know-how into how to upgrade the missiles.
One of the attempts to transfer machines designed to convert precision rockets from Syria to Lebanon was thwarted by the IDF in an attack on September 17 this year.
Hezbollah also has other sites within and outside of Beirut where its members have been working to create an infrastructure intended to stockpile precision missiles in the future.
According to the military's intelligence, one of the sites is located inside a Hezbollah soccer stadium while another is adjacent to the Beirut–Rafic Hariri International Airport.
Satellite images also show one site in the heart of a residential neighborhood a mere 500 meters from a landing runway at the airport.
Israel has been closely monitoring the sites and security officials believe that at the current stage, Hezbollah does not yet possess precision missiles, despite claims by the terror organization's leader to the contrary. Defense officials also say that there are no conversion factories currently operating.
However, one official did acknowledge that Hezbollah possesses "high quality firepower."
"In Lebanon, Iran is directing Hezbollah to build secret sites to convert inaccurate projectiles into precision-guided missiles, missiles that can target deep inside Israel with an accuracy of 10 meters (yards)," Netanyahu said in his speech to the UN General Assembly.
Listing a legion of threats posed by Iran and Hezbollah, Netanyahu said that he had a message for "the tyrants of Tehran."
"Israel knows what you're doing and Israel knows where you are doing it," he declared. "What Iran hides, Israel will find.'