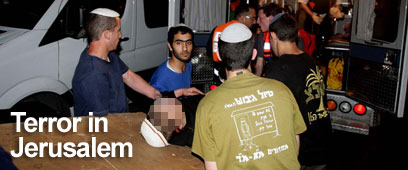 Medics evacuate wounded following attack
Photo: Dudi Vaaknin
Amnesty International condemned Friday the killing of eight Israeli civilians in a shooting attack in the Mercaz Harav yeshiva in Jerusalem Thursday.

Harsh Report

International boycott, Israeli blockade on Gaza caused situation in Strip to reach 40-years' low, report compiled by human rights groups claims, citing growing unemployment, rising food prices and limited fuel and electricity supply

"We absolutely condemn this deliberate attack on Israeli civilians as a gross abuse of international humanitarian law," said Malcolm Smart, Amnesty International's Director for the Middle East and North Africa. "We demand that all armed groups immediately cease the targeting of civilians."

Amnesty International also called on the Israeli Government to refrain from carrying out attacks that endanger Palestinian civilians in response to the terror attack in Jerusalem.

"The lives of Palestinian civilians, who bear no responsibility for yesterday's attack in Jerusalem, should not be put in jeopardy as a result, and the population of the occupied Palestinian territories should not be subjected to further collective punishment by Israeli forces," said Smart.

"The Israeli authorities must adhere to international humanitarian law and human rights standards in any action they take in response to last night's attack, even though that attack demonstrated a disregard for the most fundamental principles of international humanitarian law.

"Abuses by one side, no matter how serious, cannot ever justify abuses by the other side," said Smart.