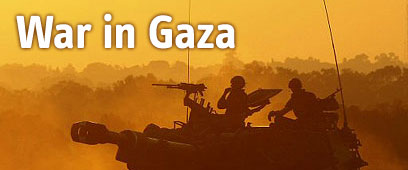 Amos Gilad
Photo: Gil Yohanan
Operation Cast Lead, phase 2.5, that is what the defense establishment has dubbed the incorporation of IDF reserve forces in the Gaza incursion.

Simultaneously, the diplomatic efforts to reach a ceasefire between Israel and Hamas have intensified, as Amos Gilad, head of the Defense Ministry's Security-Diplomatic Bureau, revealed that the Cairo-brokered talks have undergone a pivotal conceptual change, "now that Egypt fully understands" the dangers of Hamas.

Optimism

Jerusalem sources say chance for diplomatic ceasefire agreement to remain open for two-three days, but believe barring any surprises, phase three of Operation Cast Lead inevitable

"The goal is to tighten the siege on Hamas, but this is not to defined operational objective," a defense establishment source told Ynet.

Day 17 of Operation Cast Lead is expected to allow for better examination of the French-Egyptian ceasefire initiative, while IDF forces will continue to target terror hubs in the Strip.

The diplomatic initiative, which calls for indirect, Egyptian-brokered negotiations with Hamas, was deemed by Israel as problematic, but the security "kitchenette" – namely Prime Minister Ehud Olmert, Defense Minister Ehud Barak and Foreign Minister Tzipi Livni – has authorized Gilad to continue the talks.

Jerusalem does not see the talks as binding in terms of reaching any agreement with Hamas, and according to Gilad, the willingness to explore a diplomatic initiative stems from the fact that it might achieve Israel's operational goals without it having to venture forces deeper into Gaza Strip.
'Positive progress in talks'
"At the moment is seems I'm not leaving for Cairo, but that doesn't matter since I stay in close touch with Egypt," Gilad told Ynet Sunday night.
Earlier, Egypt's state-owned news agency MENA reported of progress in talks with a Hamas delegation on an end to fighting in Gaza, describing them as "positive."
Hamas, added Gilad, knows it is does not have the upper hand in the negotiations. "This isn't a lull. The tahadiya was the right move at the time, but our operation has changed the situation. Hamas has suffered a blow and the entity it has formed in Gaza is under existential threat.
"Hamas wants to stop the Israeli war machine. They need to save what they have, but unlike in the tahadiya, they know they're not in a position of power. As far as we are concerned, the only thing that matters is Israel's objectives – peace in the south and preventing Hamas from regaining its strength.
"Preventing arms smuggling through the Philadelphi Route is only one of the issues we are discussing," added Gilad. "This may be solved with the technological assistance of the Americans and Germans, since the Egyptians won't hear of having an international forces deployed in their territory.
"As far as the smugglings are concerned, we can count on Egypt more than we did before…They have undergone a conceptual change. After Hamas refused to appear to the Cairo talks (with rival Palestinian faction Fatah) Egypt began to fathom that it is dealing with an enemy, which could potentially join forces with their enemies, lime the Muslim brotherhood."
The change, he added, "is pivotal and may work to our advantage."
Premature optimism?
As for the Gaza crossings, Gilad told Ynet the issue has been effectively resolved, as long as Israel will allow humanitarian aid into the Strip, as it does. Egypt and Hamas, however, disagree, and "since Hamas is unwilling to hear of any involvement of the Palestinian Authority, we are currently not negotiating on the matter."
The Egyptian initiative, he said has allowed a ceasefire to be within reach: "Egypt is a very important Middle East power. I don't call this an agreement. I call it alliance of circumstance."
Palestinian sources, however, were not as optimistic, saying that for now, both side were entrenched on all core issues, including the very nature of the armistice: Hamas is not interested in a bilateral ceasefire – a subject which has become one of its main bones of contentions with Egypt, especially given he latter's refusal to discuss the reopening of the Rafah crossing.
"The war has set aside the fact the Hamas is no longer willing to accept Mahmoud Abbas as the Palestinian president, since his tenure officially ended on January 9," said a Palestinian source.
Hamas, he added, demands the Gaza government be allowed to remain in power until its term comes to in natural end, in January 2010.