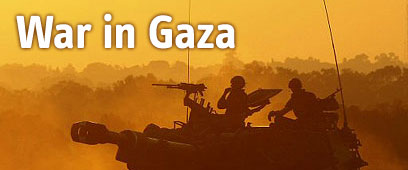 IDF cannon in Gaza
Photo: Reuters

PM Olmert (L) and Barak declare truce in Gaza
Photo: AP
While Israel's unilateral ceasefire in Gaza went into effect at 2 am Sunday, the security establishment estimates Hamas will continue to fire rockets and mortars toward the country's southern region in the coming days to prove that they "have the "last word in the conflict.

Islamist Group

Group spokesman dismisses Olmert comments, says IDF failed to defeat Palestinian people

Earlier Defense Minister Ehud Barak told reporters that IDF forces will remain deployed in Gaza.

"We are holding our fire, but will remain vigilant," he said, "we've met our military objectives and are now holding our fire, but Hamas may fire at the forces and the home front. The army will remain deployed in Gaza and is prepared to continue and even expand the operation if needed. Israel's citizens must also be prepared."

Senior Hamas figures have already declared that the Islamist group will not be laying down its arms just yet.

Group spokesman Fauzi Barhoum said that "a unilateral ceasefire does not mean an end to the aggression and siege, which also constitute components of war. Therefore, this means the resistance is not over yet," while Hamas representative in Lebanon Osama Hamadan said that "If the Israeli military continues its existence in the Gaza Strip, this is a wide door for the resistance against the occupation forces."

Israeli military officials have postulated that Hamas will hold its fire within three days.
Forces outside Gaza to remain on high alert
Sources close to Defense Minister Barak said the security establishment is gearing up for possible escalation in Gaza and has drawn up operational plans in case Hamas violates the truce.

"We are preparing for the possibility that Hamas didn't get the message and that we'll be forced to resume the offensive and perhaps intensify it," one source said.

IDF forces in Gaza have been instructed to only open fire upon sources of rocket fire towards Israeli towns or gunfire directed at them.

IDF Southern Command Chief Major General Yoav Galant has relayed new orders to commanders in Gaza. For the time being the forces are expected to keep their current positions, with an emphasis on maintaining the siege on Gaza City and controlling areas in the northern Strip from which rockets are launched.

IDF forces outside Gaza will remain on high alert in the coming days in case the situation escalates; however, should the situation stabilize, some forces may be pulled out of the coastal enclave.

Meanwhile, the IDF has recommended that the residents of Gaza, particularly those residing in the north and in areas from which rockets are fired, delay the return to their homes for fear they may be harmed in case the fighting resumes.

Senior officials in Jerusalem said that cabinet reached its decision on a unilateral ceasefire after political considerations outweighed the military ones, this following intense international pressure to stop the fighting. They said cabinet also realized that continuing the offensive would not bring about greater military achievements on the ground.

The leaders of Germany, France, Italy, Spain, UK and the Czech Republic are expected to visit Israel on Sunday as a show of support for Israel's decision.

Hanan Greenberg contribute to the report