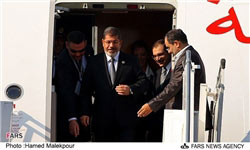 Egypt's President Mohammed Morsi arrived in Tehran Thursday, for the first visit by an Egyptian leader to Iran in over three decades.
Morsi was received with full red-carpet honors at Tehran's Mehrabad Airport. Diplomatic relations between Cairo and Tehran broke down immediately after Iran's revolution over Egypt's support for the overthrown Shah and its peace agreement with Israel.
Related stories:
As president, Morsi has so far refused to address the issue of whether ties would be upgraded with Iran, but has indicated he would pursue a more balanced foreign policy.
Morsi spoke before the Non-Aligned Movement summit, which is attended by 120 nations.
Morsi began his speech by thanking Iran for hosting the summit: "We are meeting at one of the most critical moments of our contemporary history, after the Egyptian revolution… The Egyptians were able to go through a challenging period, face a lot of challenges and find a peaceful solution to the revolution."
Morsi arriving in Iran
Egypt, he said, "Is now a true civil and democratic state… (and) it is our destiny to play a critical role in such critical moment for NAM. It has stood by its principle and the movement has been able to protect the rights of developing countries and legitimize new foreign policies for new democracies."
The Egyptian president stressed the need for "a more just world... and we will insist on taking a part in this new order. We are looking for a just international order where developing countries can leave the circle of poverty and marginality and become a part of the new world order.
"This cannot be achieved without the principles of democracy being implemented on an international level. We cannot accept any more unilateralism and any overlooking or of such principles in international politics," he stated.
Egypt, he continued, "Believes that one of the main principles of this new world order we are looking for is based on enhancing the participation of developing counties in international institutions.
"Maybe the first step should be a reform in the Security Council in order for it to be more representative of the new world order of the 21st century and not a reflection of the 20th century. We must also enhance the activities of the General Assembly as it is the best representative of the international community," he said.
Morsi then turned his attention to the Palestinian Authority, Morsi said that Palestinian independence "has been a priority of the (Muslim Brotherhood) movement since its birth and it will be so until we achieve a comprehensive solution that will support the right of the Palestinian people to decide their own future and to establish their free state on their own soil."
"We have to stand by such rights and we have to support… until Palestine a full-fledged state," he said.
He then spoke out about the situation in Syria saying it was Egypt's "ethical duty" to support the Syrian people against the "oppressive regime" in Damascus.
"Our solidarity with the struggle of the Syrian people against an oppressive regime that has lost its legitimacy is an ethical duty as it is a political and strategic necessity," Morsi added.
"We all have to announce our full solidarity with the struggle of those seeking freedom and justice in Syria, and translate this sympathy into a clear political vision that supports a peaceful transition to a democratic system of rule that reflects the demands of the Syrian people for freedom."
Following his statements, the Syrian delegation walked out of the NAM summit, Al Jazeera reported.
Receive Ynetnews updates directly to your desktop