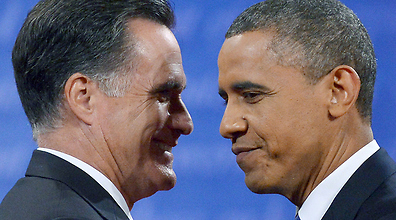 Obama and Romney
Photo: AFP
WASHINGTON – One of the most intense presidential election campaigns in US history will peak Tuesday, as tens of millions of Americans will be asked to choose who will lead the United States, and the free world, over the next four years – Barack Obama or Mitt Romney.
The last few months have seen Obama and Romney in a deadlock race, with recent surveys saying both are either tied with 48% of the votes, or giving Obama a razor-thin edge of 1%.
Related stories:
Both candidates made somewhat of a frenetic dash between the crucial swing states on Monday, whose voters literally hold the future of the presidency in their hands.
Obama in Colorado (Photo: Reuters

Superstorm Sandy disrupted the early voting process across the East Coast, as many voting places were washed away. States affected by the storm have made various provisions to facilitate voting, replacing automatic voting machines with old-fashioned paper ballots, using Department of Defense trucks as ballot stations and allowing voters displaced by the storm to vote via email.
For full coverage of the US elections click here

The first exit polls are likely to surface relatively early, starting with the key state of Virginia, where voting will end by 7 pm (2 am Israel time). Ballots in Ohio will close next.

The candidates would have to brave the long ballot-counting process in both, but should one emerge as the clear winner in Virginia, Ohio or both, it may indicate which way the overall vote is likely to go.

Top Obama adviser David Axelrod said that the campaign will be following the results in these two states closely. Romney's political director Rich Beeson said the campaign will be looking for trends in the early numbers as well.

Following Virginia and Ohio, ballots will close in New Hampshire, Florida and Pennsylvania at 8 pm (3 am Israel time). By 9 pm (4 am Israel time) ballots will close in the swing states of Colorado, Michigan, Minnesota and Wisconsin and an hour later the vote will end in Iowa and Nevada as well.



The Romneys in Virginia (Photo: AFP)

November 6 may be the official Election Day, by some 40% of voters in the key states of Florida and Ohio have exercised their right to an early vote. Obama himself cast his vote last week, in Chicago.

The extremely close race, compounded by the complex election process in the United States has sparked speculations regarding what many Americans see as a political nightmare – a tie.

Top analysts expressed concerns that that the Obama-Romney race may see the same result as the 2000 presidential campaign, in which George W. Bush and Al Gore were also virtually tied and eventually needed the Supreme Court to decide who would become president.

"There won't be a race to call states quickly. The networks are going to be very careful this time," said political scientist Steven Schier of Carleton College in Minnesota.
Receive Ynetnews updates directly to your desktop