Netanyahu and Lieberman
Photo: EPA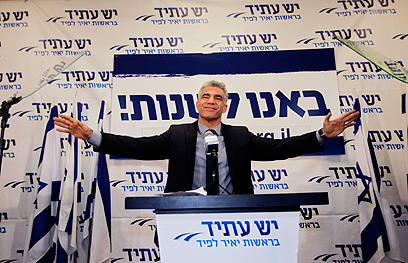 Shelly Yachimovich
Photo: Ido Erez
The Central Election Committee released the final results of the 2013 general election in the early hours of Wednesday morning.
The joint Likud-Yisrael Beiteinu ticket was able to secure 31 Knesset seats, a significant drop from pre-election polls that predicted the ruling party and its ally would win 42 mandates.
Related stories:
Prime Minister Benjamin Netanyahu gave a victory speech shortly after midnight, saying: "I'm proud to be your prime minister. I thank you for giving me a chance, for the third time, to lead the State of Israel. It is a great privilege and a great responsibility," he said.
Tuesday's true victor was, however, journalist-turned-politician Yair Lapid, whose party, Yesh Atid, was able to win 19 mandates; cementing its status as the second-largest party in the Knesset.
Labor was also able to rehabilitate its position in the House, winning 15 seats and becoming the Knesset's third-largest party.
Chairwoman Shelly Yachimovich insisted Tuesday that "There is a high probability of a (political) upset."
Celebrating at Yesh Atid HQ (Photo: AP)

Tzipi Livni's Hatnua failed to reach the projected nine mandates and won six seats; while Meretz was able to double its power, from three to six mandates.

According to a tally of 99.5% of the votes, the results are as follows:
Likud-Yisrael Beiteinu: 31
Yesh Atid: 19
Labor: 15
Shas: 11
Habayit Hayehudi: 11
United Torah Judaism: 7
Hatnua: 6
Meretz: 6
United Arab List-Taal: 5
Hadash: 4
Balad: 3
Kadima: 2

The results also spell one of the narrowest gaps ever noted between the Right and Center-Left blocs in the Knesset; giving the Right 60 seats and the Center-Left 52 seats.

Factoring in the Arab parties' mandates, the House could potentially be divided 60-60.

The results are expected to make it tough for Netanyahu to form a coalition. The prime minister vowed to form as broad a coalition as possible, saying that aside from the Likud's natural partners, he considers Yesh Atid a "true partner" in government.

Political analysts hedged Tuesday that as leader of the Knesset's second-largest party, it is highly unlikely that Lapid will refuse an invitation to join the coalition.

Israel's 2013 election saw record voter turnout. According to the Central Election Committee, 66.6% of Israelis exercised their right to vote, as well as 80% of IDF soldiers. Out of some 3.767 million votes cast, only about 40,000 were disqualified.

Voter turnout was the highest since 1999, the committee said, although it dropped significantly in the Arab sector.

Moran Azulay, Ahiya Raved, Attila Somfalvi, Yuval Karni, Shahar Chai, Omri Efraim, Ilana Curiel, Noam Dvir, Neri Brenner, Raanan Ben-Zur, Tzvika Brot, Sharon Gilad, Akiva Novick, Hassan Shaalan, Elior Levy and Telem Yahav contributed to this report
Receive Ynetnews updates directly to your desktop