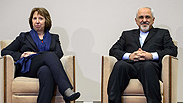 EU's Asthon with Iranian FM Zarif
Photo: AFP
Iran's foreign minister and the EU's top diplomat agreed during telephone call Sunday to postpone until after Christmas talks on implementing a landmark nuclear agreement, the country's chief negotiator said.

"During this telephone conversation, it was agreed to continue the negotiations, but with the Christmas holidays in sight it was decided to interrupt and resume (the talks) a week after the holidays," said Abbas Araqchi.

Related stories:

The Iranian nuclear negotiator said the agreement was reached during a call that lasted "45 minutes" between Iranian Foreign Minister Mohamad Javad Zarif and EU foreign policy chief Catherine Ashton.

Araqchi, who is also deputy foreign minister, said the discussions were progressing slowly because of "interpretations" of points of the agreement that Iran and world powers clinched in Geneva on November 24.

The negotiations, which are aimed at setting a framework and a timeline for the nuclear accord, stretched into a fourth day in Geneva on Sunday.

Zarif said little progress had been made in the talks with the P5+1 -- UN Security Council permanent members Britain, China, France, Russia and the United States plus Germany.

"The talks on implementing the accord are not easy. They are progressing, but slowly," he told a joint news conference on Sunday with visiting Italian Foreign Minister Emma Bonino.

"I hope all sides will avoid delving into issues that could become troublesome and complicate the process," Zarif added without elaborating.

Under the Geneva accord, Iran agreed to roll back or freeze parts of its nuclear drive for six months in exchange for modest sanctions relief and a promise by Western powers not to impose new sanctions.

Western powers suspect Iran's nuclear activities mask military objectives, despite repeated denials in Tehran that they are entirely peaceful.
Receive Ynetnews updates directly to your desktop