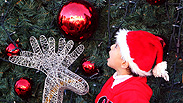 The Detroit area's Jewish community is once again working with Muslims this week to do some good deeds while their Christian neighbors celebrate Christmas.

Unexpected Collaboration

Bradford Reform Synagogue's future is rosier than ever thanks to intervention of local Muslim community, whose fundraising efforts have secured its long-term future

About 1,000 Jewish volunteers from several congregations are expected to join local Muslims Wednesday for Mitzvah Day, the largest single day of volunteering by the local Jewish community. The Michigan Muslim Community Council is coordinating volunteers from its communities.

The volunteers will be helping social service agencies at about 40 sites throughout the day.

The Jewish Community Relations Council of Metropolitan Detroit has sponsored Mitzvah Day for more than 20 years. Muslims have been part of the effort for the past five years.

Mitzvah means "commandment" in Hebrew and is generally translated as a good deed.