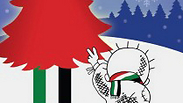 Holiday card. 'One-sided version of the current political reality'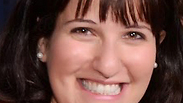 The holiday season is traditionally a time for a good cheer, well wishes and fellowship. Season's greetings, carols and decorations can make even the non-observer smile. Yet, in a new report issued by Jerusalem-based research institute NGO Monitor, "'Tis The Season 2013: How Anti-Israel NGOs Manipulate Christmas," a less-cheerful side of the Christmas season is revealed – a pattern of radical non-governmental organizations (NGOs) that exploit the holidays for politicized attacks against Israel.

Defensive Democracy

Op-ed: There is no difference between Kahane Chai, radical group working to boycott Israel because of its Jewish identity

As shown in the report, these NGOs expropriate traditional Christmas messages and symbols, using offensive, inflammatory, and often blatantly anti-Semitic rhetoric in Christmas carols, holiday cards, nativity scenes, verses, and prayers. These mediums are then used to promote anti-Israel themes and support Boycott Divestment and Sanctions (BDS) efforts.

Additionally, these groups often encourage boycotts of specific Israeli goods as part of the exploitation of American consumerism during the holiday season. For example, in 2013, Friends of Sabeel-North America (FOSNA) is running a campaign to "send a Christmas appeal to the SodaStream 14." The effort sends letters to the chief executive officers (CEOs) of 14 major companies that sell SodaStream devices, asking them to discontinue sales.

Going one step further, at its seventh annual "Anti-Apartheid Holiday Caroling at Leviev's," a fringe and marginal group known as Adalah-NY replaced lyrics of traditional holiday songs with lines reminiscent of classical anti-Semitism. Aimed at a New York jewelry store owned by Israeli businessman Lev Leviev, Adalah-NY provides an entire songbook of altered holiday songs for activists to use while protesting. The songs accuse Leviev of (to the tune of "Jingle Bells") of "Building settlements/ On confiscated lands/ Selling di-amonds/ With blood on his hands." Carols and gift-giving, usually happy symbols of the holiday spirit, are now transformed into vehicles for the promotion of anti-Semitism and blood libels, polarizing Jewish-Christian relations.
'Wise Men queuing to enter Bethlehem'
This year, distorted stories, sermons, prayers, and the use of biblical figures, are especially prominent. These messages serve as alternative material for spiritual and educational purposes, making them especially pernicious. Indeed, the abuse of Christmas messages is part of a broad international campaign to introduce political warfare against Israel into churches. As seen in NGO Monitor's "BDS in the Pews" project, Palestinian Christian NGOs consistently provide the theological and ideological frameworks for these attacks.
For example, in 2009, a group of 13 Palestinian Christian clergy drafted the Kairos Palestine Document. It calls for BDS against Israel, denies the Jewish historical connection to Israel in theological terms, and blames Israel solely for the continuation of the conflict. Its purpose is to rally churches globally to support BDS, delegitimization, and demonization directed at the State of Israel.
This year, Kairos Palestine published a 50-page "Christmas 2013" pamphlet, slated to be used as an educational hub for religious groups and gatherings. The pamphlet exploits traditional Christian sources, using religious figures and biblical stories as part of politicized messages: "Mary understands the right of return for refugees. Standing in the shadow of empire, Mary sees and still bears witness, sings to God the Savior... After 46 years of occupation and denial of all basic rights, can I continue joyfully witnessing and singing like Mary?" or "The Holy Family taking refuge in Egypt away from danger and death brings back memories of Palestinian families who sought a similar refuge in nearby villages and countries like Egypt away from the cruelty and destruction of war in 1948."
Similarly, and perhaps more common is the use of the current political reality projected onto the stories of the New Testament. For example, UK-based Amos Trust in their annual Bethlehem Pack speculate: "If Jesus was born today in Bethlehem, the Wise Men would spend several hours queuing to enter the town…The shepherds, despite being residents of Bethlehem, would struggle to graze their sheep because their land would be annexed by the building of the separation wall and a lack of freedom to travel and restrictions on trade would make it very difficult for them to make a living."
These statements describe a one-sided version of the current political reality, conspicuously omitting the context of deadly terrorism and other violence against Israelis. Many of the NGOs use the image of the Israeli security barrier, in particular surrounding Bethlehem, in their holiday cards and messages, entirely ignoring the role this structure has played in preventing deadly terror attacks against Israeli civilians.
These depictions, messages, and attacks, not only serve to misrepresent a complex political context. They also hijack the messages and warm feelings engendered by Christmas, debasing the very meaning of the holiday.
Avigail Sugarman is deputy editor at the Research Department of NGO Monitor