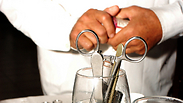 'Average pediatric urologist spends about 20% of his or her time repairing circumcised children'
Photo: Shutterstock
A Pittsburg rabbi is being sued for severing a baby boy's penis during an alleged botched circumcision. The child's parents have filed a civil suit against the local mohel (circumciser), Rabbi Mordechai Rosenberg, claiming he had caused their son severe medical damage during the procedure.
According to US media reports, the incident took place on April 28 during a traditional circumcision ceremony at Tree of Life Synagogue in Squirrel Hill, Pittsburgh. The ceremony ended tragically when the boy was rushed into an emergency microsurgery at the local hospital. According to the parents, it is unclear whether he will make a full recovery.
Eight-hour surgery
The serious incident led to a public discussion on the professional qualification of religious circumcisers in the United States and the risks involved in the procedure when it is not carried out by an authorized medical professional.

The lawsuit was filed a week ago using the initials of the mother, father and child in a bid to protect the identity of the boy. The parents' attorney, Neil Rosen, called the incident "unimaginable" and said it had caused a "catastrophic and life-changing injury" to the child when he was just eight days old.

Divorce Battle

Woman petitions High Court of Justice against High Rabbinical Court's decision to force her to perform Jewish ritual on infant, at father's request. 'Tomorrow they'll force people not to eat pita bread during Passover as part of divorce case,' she tells Ynet

According to Trib Live, the suit does not specify the child's injuries but claims Rosenberg acted "with a total disregard" for the boy.

The CBS network reported that during the circumcision, the rabbi severed the baby boy's penis. The child was rushed to Children's Hospital, where doctors performed an eight-hour emergency microsurgery.

During the operation, the baby needed six blood transfusions. He then stayed in hospital for nearly two months. Hospital sources described the procedure as "successful."

According to the lawsuit, the child also had leech therapy during his recovery to help the body accept reattached parts by promoting blood flow and tissue regeneration, Trib Live reported.
Mohel: It's a tragic accident
Renowned UPMC plastic surgeon Dr. Joe Losee, who was not involved in the boy's treatment, told Pittsburgh news station KDKA warned there could be long-term health problems for the boy.

He told CBS that microsurgery advances every day, but it's risky. "Sometimes, it doesn't always work," he said. "When you're reattaching a portion where you include nerves, sometimes the nerves don't heal well beyond where you reattached it. So there are limitations for sure."

Rabbi Rosenberg told KDKA in response to the lawsuit, "I am trained in this." He also called the case a "tragic accident" and a "horrible situation," but said he continues to perform circumcisions.

Rosenberg's website says he was trained by rabbis in Pittsburgh and Jerusalem and is recognized as a certified mohel since 1990 by the American Board of Ritual Circumcision in New York. Rabbi Avrohom Cohen, board chairman, did not return Trib Live's calls.

Rosenberg explains in his website, "Bris Milah, performed according to Jewish tradition, is a wonderful beginning for a newborn child. It is a memorable experience, replete with significance and meaning for all those involved."

He also states that a doctor's medical circumcision performed in a hospital is "not considered valid according to Jewish Law."
1 in 500 newborn boys suffers complications
Attorney David Llewellyn, who handles cases involving injury during circumcision by both doctors and mohels, told CBS that the discussed incident "is extraordinarily serious and extraordinarily rare."

According to Llewellyn, "Your average pediatric urologist probably spends about 20% of his or her time repairing children who have been circumcised."

According to the American Academy of Pediatrics, one in every 500 newborn boys experience significant acute complications as a result of circumcision. "This is pretty much unregulated," Llewellyn told CBS.

He said there was no regulated standard for training or certification of mohels, or any place for reporting injuries from circumcision.

"There's virtually no regulation of this any place in the United States that I know of," Llewellyn said. "I think the government probably should require some sort of training if this is going to be done."