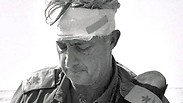 Ariel Sharon during the Yom Kippur War. 'His body served as the homeland's bandage'
Photo: AFP
My brothers, the heroes of forgiveness, the family of the Israeli Right, the settler public – let go of those departed.
Ariel Sharon, the hero of Israel, the chariot of Israel and its horsemen – has collapsed and fallen, and is no longer with us. You, who in the past few years glared at him accusingly, settled scores with him, wrote things like "his old age shamed his youth" and different goads that wracked their way through his body, please, be silent.
You, who rightfully look at the world through the will of the Creator, who chooses His messengers, must admit that the Creator loved His son Arik. He chose him – and more than once. Remember that he who saves one life – sees the face of Divine spirit. Arik Sharon had the right to save an entire nation, and not just once but four times.
Personal Goodbye
Op-ed: Former prime minister's most remembered contribution is securing Jewish people's future in Israel and Diaspora
Arik was nicknamed the hero of Israel. The truth is that he was much more than that. He was cast more in the image of world military leaders such as Alexander the Great, Napoleon and their like. But he, as a devoted son, had no desire to conquer the world, but just to look after his people's interests and go home to his village.
Reflect for a minute on who lived among us. Since the beginning of human history, is there an example of a person who at the sound of his voice our enemies began shaking, leaders stopped raging, animals ceased running? Anwar Sadat, our most implacable foe, upon getting off the plane on his visit to Jerusalem asked first of all to meet with… Sharon.
Remember that in the horrible war of the near "destruction of the third Temple," as leadership collapsed and great darkness covered the land? The moment his voice was heard on the communication network – the collapsing fighters, the penetrated lines of battle, they all experienced a sense of new vitality. One bone attached to another – and the soldiers arose to fight again. Prophet Ezekiel spoke of the vision of the valley of dry bones – Ariel Sharon engaged in it.
You, who are ordered to be grateful, must forgive. What was it about Arik that turned him into such a huge man? We will never know. Why did the Creator choose him to save His people? We can only guess. He wasn't only scarred by battles, a man of letters and classical music – he had endless love for his homeland, for every sod of its earth.
Have we ever had a warrior, a commander and military leader who scorched his body in the sods of the homeland and yet knew the name of every hill and its indigenous flowers?
And as is the way of heroes who are elevated military leaders, he conducted himself with a lot of noise – and did not disappear into utter silence. The fighting figures of the Jewish people, King David and all those who followed, are filled with great successes and marked by huge errors. Due to their magnitude they cannot make small mistakes. And we have forgiven them all.
And if someone ever wondered whether he was a nearly unrealistic figure, the way he departed speaks for itself. For eight years he was slowly removed from us, piecemeal. Even nature almost couldn't overcome him. Only when the good Creator decided to gather him, his heart became silent.
Bid farewell to the most senior warrior of our good land, whose body served as its bandages. Bow and shed a tear over the great man who lived among us – the famed hero is no longer here. And shed a tear for ourselves.