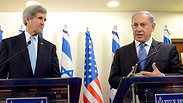 In a parallel universe, Netanyahu would have expressed full support for Kerry
Photo: Haim Zach, GPO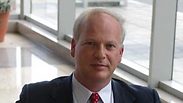 Alon Pinkas
Photo: Michael Kramer
In a parallel universe, Prime Minister Benjamin Netanyahu would have taken a look at Ynet's headline on Tuesday morning and been shocked by the blatancy and obscenity – if not by the content as well – of the defense minister's remarks. An hour later he would have arrived at his office, summoned Defense Minister Moshe Ya'alon and demanded an unequivocal clarification.

The prime minister would have listened, would have not really been impressed, and would have reprimanded Ya'alon, the former IDF chief of staff who knows better than all of us just how much Israel depends on the United States.

Diplomatic Row

Analysis: After being blasted by Kerry and his team as main obstacle to framework agreement with Palestinians, frustrated defense minister had enough, but frustration is no substitute for sophisticated public diplomacy

Fifteen minutes later, the prime minister would have issued a statement expressing "complete disagreement with Minister Ya'alon's remarks" about wrong and insignificant things – and full support for "Secretary of State Kerry's commitment to reach an Israeli-Palestinian agreement."

In a parallel universe in which Israel's prime minister has normal working relations with the US president, Mr. Netanyahu would have thought about it, and then decided to telephone President Obama, to apologize and squirm that, "it's not what it sounds like and what was published, but I apologize from the bottom of my heart for the general idea."

In that same parallel universe, the US State Department would not have issued the serious statement of condemnation it did over Ya'alon's remarks, because there would have been no need for it, and so a "conflict" would have been prevented.

But that's in a parallel universe – and this is Israel. State Department officials know that Defense Minister Ya'alon has fundamental doubts about the nature of the framework agreement. That's legitimate. They also know that what Ya'alon said, regardless of the context and stage, is what Netanyahu thinks in his heart of hearts.

Moreover, State Department and White House officials know that relevant criticism about the American mediation is an undesirable but inseparable part of the game. Personal criticism, about an individual rather than the issue in question, is wrong and deserves harsh condemnation – and such a condemnation was indeed made public Tuesday. The US cannot afford damage to its image and projection of strength, and so Ya'alon led to an inevitable condemnation.

Who exactly did Defense Minister Ya'alon, according to the report, call "messianic and obsessive"? The secretary of state of the United States, a country which has vetoed anti-Israel resolutions at the UN Security Council 51 times. What does he mean by "obsessive"? The fact that he wants to bring about a peace agreement between Israel and the Palestinians. Is that a top interest of the residents of Tennessee and Pennsylvania, or an Israeli interest?

The US is shifting away from the Middle East for a variety of reasons: Complete independence from Middle Eastern oil, lack of hope for alliances in the Arab world and relocation of priorities to the Far East. Netanyahu is not to blame for this process. His job is to slow it down as much as possible and not – as Ya'alon did – speed it up. But that's in a parallel universe. Here in Israel, Netanyahu has been verbally attacking the US president for five years. So what could we actually expect from Ya'alon?