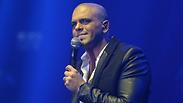 Eyal Golan
Photo: Motti Kimchi
Golan testifies on sexcapades: 'So my dad shows up with two girls…'
Israeli singer Eyal Golan's testimony to police goes public, revealing group dirty orgies organized by his father. In one case, 16-year-old girl reportedly told Golan she didn't want to sleep with him only to have him tell her: 'Don't worry, I'll be done in five'
The testimonies of Israeli singer Eyal Golan and others involved in the celebrity sex scandal have been made public.
Their publication happened in anticipation of a hearing expected to be held for Eyal Golan's father, Dani Biton, who according to allegations was in charge of finding and paying underage girls for the singer and his friends to 'party' with, and also allegedly partook in the illegal sexcapades himself.
Related stories:
Golan has already been interrogated by the police three times for allegedly having sex with 16-year-old girls who received money. In one of the cases, it is claimed that an orgy took place and that Golan's father was involved.
During the alleged orgy, one of the girls reportedly told Golan that she didn't want to have sex with him, to which he responded: 'Don't worry, it will only take five minutes."
After Golan left the room, his father entered together with another friend, a radio broadcaster, and proceeded to have sex with the underage girl.
Golan denied the allegations against him, admitting only to a single case of oral sex with a minor that was brought to him by his father, claiming she told him she was of age, and only later admitted to being 17 and a half, after which he immediately stopped the sexual encounter.
Police: Do you know a girl called S.R.?
Golan: No.
Police: S.R. claims she came to one of your Caesarea shows with a group of friends, and afterwards your father Danny Biton drove them to your Caesarea villa where a hafla (Mediterranean style party) was happening with a lot of celebrities. According to S.R., at some point all of the guests left except her, two friends, you and the radio broadcaster. According to her, you, your father and the radio broadcaster took one of her friends into a room and spent some 20 minutes there with her.
Golan: Never happened.
Police: She claims that half an hour later she entered the same room with you.
Golan: Never happened, I don't know her.
Police: S.R. claims that after you, your father and the radio guy had an orgy with A., and then with M., and then you had sex with C, after which you proceeded to have sex with her.
Golan: Never happened.
Police: S.R claims she did want to sleep with you and did so only because of peer pressure from her friends who had already slept with you. She says that when she told you she didn't want to you said 'don't worry, I'll be done in five minutes.' She claims that after you finished you left and before she could do the same your father and the radio broadcaster entered the room, locked the door and forced her to satisfy them while she is crying and begging them to leave her alone.
S.R. also claimed that she told you she was 16 and you ignored her. Eventually she got NIS 200 from your father while the other girls got NIS 300 because they were part of an orgy.
Golan: Never ever happened, I have never even seen this girl.
Golan did admit to one sexual encounter organized by his father: "I don't exactly remember when, but sometime during the last year my father came to my house with two girls. One presented herself as A, 21, and we began to make-out and eventually it turned into oral sex.
"While she was performing oral sex on me I felt something was wrong and I wasn't sure of her age. Something about her excitement raised my suspicion. So while she was performing oral sex on me, my dad and the other girl were in the living room, next door to us.
"After three minutes I asked her about her age again and she told me she had lied and that she was in fact 17 and a half, almost 18. I got dressed and was very angry at my dad, I told him I could lose my career because of this."
The full testimonies will be published in Yedioth Ahronoth's weekend edition