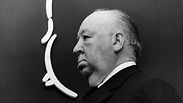 Films provide a glimpse into Hitchcock's early work
Photo: Getty Images
The British Film Festival, which will be held at the Tel Aviv, Haifa and Jerusalem cinematheques for about a month starting February 20, will include a tribute to Alfred Hitchcock.

As part of the Hitchcock 9 project, which is being screened around the world, the British Film Institute (BFI) restored, reconstructed and sharpened the quality of nine silent films created by the legendary British director from 1926 to 1929.

Lost Film

Legendary director's lost documentary, showing horrors of Nazi death camps, to be aired on British television next year

The restoration process involved many archivists and experts and the recovery of shots that had disappeared over the years. These films provide a glimpse into Hitchcock's early work and are important for understanding his later works.

The films will be screened as part of the festival, which is a collaboration between the British Council and the Israeli cinematheques, accompanied by live music performed by Israeli musicians Daniel Salomon, Eran Tzur, Karni Postel and Tom Darom, Abatte Barihun and Omri Mor, Ofer Tal (DJ Schoolmaster), Mark Eliyahu and Wissam Gibran.