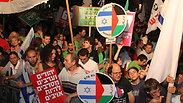 'Sanctions against those seeking to protest are like covering a pressure cooker'
Photo: Ofer Amram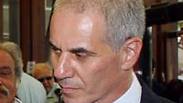 Boaz Okon
Photo: Yariv Katz
In 2011, the Knesset adopted this dangerous nonsense, and gave it a long and complicated name, "Law for Prevention of Damage to State of Israel through Boycott," which aimed to provide excuses for it. According to this law, a boycott call will be considered a civil offense, which one could claim damages for.

This law is dangerous because what is presented, out of over-righteousness and a show of misery, as an eye for an eye – in other words, that the State will restrict those who boycott it – is in fact an attempt by the State to silence people.

Boycott Debate

Op-ed: US, European countries already have anti-boycott laws, so why can't Israel have one?

There is a big difference between a situation in which a private person calls on people to avoid purchasing products made in the territories and to avoid ties with an Israeli academic institution, and a situation in which the State boycotts such a person itself.

Israelis are allowed to think that people should not buy products from the territories. They are also allowed to think that the boycott is a legitimate means of persuasion. Other people are allowed to oppose it, and even call as individuals for a boycott of the boycotters. But the State itself must not intervene.

The State can ban boycotts based on race, religion, sexual inclination, for example a boycott against Arabs or Jews for being Arabs or Jews. It is not allowed, however, to use boycott or anti-boycott measures when they are part of the political discourse.

The law is also foolish. Those in need of power may discover that they are exposed to a greater power. Laws of this kind legitimize an organized boycott against Israel and cause further damage to the image of the democratic state – an image which is already battered both because of a series of unnecessary laws and because of the occupation of millions of people deprived of basic rights. If we won't be allowed to protest that – what will we be allowed to protest? Moreover, if the State is boycotting – why can't the State be boycotted?

Whoever thinks the State is the place for silencing may discover that other states will silence him. If Israel, as a state, can impose sanctions, why can't other states enact laws banning settlement products? Generally, silencing only pays off in the short run.

Sanctions against those seeking to protest are like covering a pressure cooker. The boiling continues inside and the steam eventually blows up the pot. If the Supreme Court, which is discussing this law's legality, fails to save us from it, this pot may also explode in our faces.

The dispute, even if it is accompanied by a protest, is the best recipe not only for maintaining freedom but also for making peace. Those preventing people from choosing a non-violent line of action – demonstrations, protests, as well as boycott calls – is calling for a more violent step.