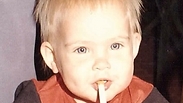 Baby Refaeli and the cigarette. 'I swear they raised me well'
Instagram screenshot
Bar Refaeli sparked a mini-row over the weekend on her Instagram account, when she posted an old picture of herself as a baby with a cigarette in her mouth.

The picture shows a short-haired blond toddler being held by an older man and holding an unlit cigarette between her lips.




"I swear they raised me well," the 28-year-old Israeli supermodel wrote about her parents in the photo caption.

Busy Girl

Supermodel stars in a Spanish commercial for bread, tells Huffington Post what she thought of her famous ex's new film

Yet some of her 1.2 million followers were no very amused, leaving angry comments.

"It's shocking," one of the followers wrote. Another added, "It's not funny and not educational, even as a joke."

"You have tens of thousands of followers who are children and teenagers,

and this picture conveys an inappropriate and wrong message," someone else wrote.

Refaeli did not respond to her critics, but her fans rushed to defend their idol, referring to the photo as "the cutest thing in the world." One of the supporters even noted that "all Israeli kids have a picture like this!"

Ynetnews contributed to this report.