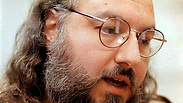 'Right-wing camp made political capital on Pollard's broken back and then threw him to the dogs'
Photo: AP
People may ask, and rightfully so: Now that the Americans have expressed their willingness to release Jonathan Pollard in order to save the peace negotiations, what's the point of keeping him in jail? This is an appropriate question, and so is the answer, which we haven't heard and will never hear from any American personality: And revenge? What about that?

That's the truth: Pollard has been sitting in prison for quite a few years as an act of revenge on the part of the American intelligence services. Deterrence and revenge are the name of the game.

Pollard Deal

Op-ed: If Sharon made shameful deal with Hezbollah to secure drug dealer's release, says wife of missing IDF airman Ron Arad, Netanyahu can definitely release Israeli spy in exchange for murderers.

Yes, also revenge. Pollard exposed the American intelligence fleet in all its weakness. He was enthusiastic and obsessed about his work, and delivered to Israel information which had nothing to do with Israel. His judges knew exactly what he passed on and to whom.

How did he even get his hands on such information? Because of an error in the American intelligence's collection system, Pollard was exposed to almost every available piece of intelligence information.

And why didn't Israel stop him? Some say, and there is no evidence to prove this, that his senior operator Rafi Eitan, head of the Defense Ministry's Lekem agency (the Bureau of Scientific Relations, which was really an intelligence collection agency), wanted to show the Mossad secret service what it lost when it failed to appoint him as its director. His Israeli operators on the ground – and I won't repeat their names – were not typical intelligence officials either, and fell into the trap of enthusiasm. Look at this information! How wonderful!

Pollard was recruited by Lekem during Moshe Arens' term as defense minister and was operated at the start of Yitzhak Rabin's term as defense minister. Rafi Eitan was appointed by Ariel Sharon during his term as defense minister. The claim that Israel does not collect information among its friends, certainly the United States, requires clarification. Israel may not collect information, but not so long ago Hollywood producer Arnon Milchan published a book in the US about his adventures in America as part of the Defense Ministry.

Pollard was problematic before and after he was recruited in the service of the State of Israel. He declared his intention to assist Israel almost publicly. It's true that he was rewarded for his services, but the thing is that Israel is stingy and economical and is not generous towards those who take risks for the state. The reward did not match the intelligence information Pollard supplied in any way. There is not a single intelligence official in the world who would reject such information.

As far as we know, Pollard could have become a free man many years ago. President Bill Clinton, for example, expressed his willingness to release him as a gesture to Yitzhak Rabin, but was faced by the group of avengers from the American intelligence.

The first women to visit Pollard in his cell were Knesset Members Geula Cohen of the Tehiya party and Edna Solodar of the Labor Party. Solodar returned to Israel and almost kept mum. Geula Cohen cried out that he must be released from prison. Right-wing ministers and MKs followed in her footsteps and turned Pollard's cell into a pilgrimage site. They made political capital on his broken back and threw him to the dogs and to prison after using him. That's how Pollard turned into a national hero over the years, the right-wing movement's darling.

And that's exactly what drove the American intelligence out of its mind. The Americans claimed that the damages caused by Pollard were enormous. They said they had invested huge energies, imaginary sums, in order to undo the damage they felt they had suffered. The Americans said, and rightfully so, that it was as if every piece of information and method exposed – even if only to Israeli eyes – were exposed to the entire world. And while they are working meticulously to repair the damage, Israelis – mainly rightists – are turning him into a national hero. Pollard paid with 30 years in prison for becoming a hero.

And what about the revenge? The Americans are laughing at us. They are saying that we didn't give Mordechai Vanunu even one minute of freedom before the end of his prison term and that we are still persecuting him years after he was set free. What is that if not revenge? They have many other names for it too.

In November 2015, President Barack Obama is expected to pardon Pollard. If he remains a national hero here, he may stay in jail, and that will only be the foreword of the introduction of the beginning.