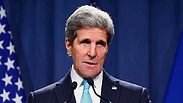 US Secretary of State John Kerry. Fed up with both sides
Photo: Reuters
The clouds that gathered Monday in the State of Israel's sky did not bring timely rain, and one could see and hear their reflection in the Palestinian Authority and in Israel's government, as well as among the residents of Judea and Samaria and the political party system: The American attempt to mediate between Israel and the Palestinian Authority on the continuation of the talks for any type of agreement are running on the last drops of fuel.

Just one more day, just one more week, and American Secretary of State John Kerry will give up, utter a vulgar curse behind the backs of the Israeli and Palestinian representatives and convey a message such as "I'm fed up with you" to both sides.

Modest Mission

Op-ed: US secretary of state has failed in his mission, mainly due to the fact that both sides did not desire its success. But he also did not dare to really push them to succeed.

The long and avenging hand of the US will likely be seen down the road and over the years. America doesn't forget. America doesn't forgive. It only "waits in the corner."

The Palestinian threat to dissolve the Oslo Accords is failing to make a major impression in Jerusalem. There have anyway been Israeli prime ministers in the current round, and definitely ministers, and even more so the rightists who took over the Likud, who wanted to see the Oslo agreements canceled as soon as possible.

They were willing to pay lip service for any settlement with the Palestinians, and even release prisoners and murderers here and there, but there is no need to exaggerate. Even the most radical members of the Knesset lists the current coalition is comprised of know today, more than ever, that if the Palestinians' claims are accepted, it would mean the collapse of the Judea and Samaria settlement dream.

The problem is that the second option, that of one state between the Jordan River and the Mediterranean Sea, is also seen as a nightmare by the current government. One option is bad, the other is terrible. And so, between these two sore evils, the ship of fools of the Israelis and Palestinians rocks on stormy waves.

All those who mocked the "dream of opportunities" which opened 20 years ago and made it possible, one way or another, to reach any agreement with the Palestinians, are now standing like dummies on the deck of the Titanic, seeing the iceberg about to collide with the ship which believed it could not sink, and singing "Hatikva," Israel's national anthem. "Our hope will not be lost."